Beaches in Fethiye Turkey
Here is the list of most popular and best beaches in Fethiye Turkey as well beaches located nearby including famous Oludeniz (Belcekiz and Blue Lagoon) and Calis Beach (municipal Fethiye beach) and not that much popular but nice like Kidrak beach, Kaputas beach, Gemiler beach, Aksazlar, Kuleli Koyu and Karaot. By all means beach lovers can find their own favorite beach in Fethiye and nearby area. Should be noticed that there are no Hisaronu beaches because there is not sea coast in Hisaronu, hence the closest beach is Oludeniz.
Calis Beach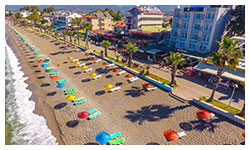 Calis Beach is considered one of the most eco-friendly beaches near Fethiye. It is 4 km long, sandy and pebble with clean and warm Aegean Sea. It is located in a place with a great environment away from the city's dust and car exhaust. All along the Fethiye Calis Beach you may see incredible panoramic beauty of the Taurus Mountains and the numerous islands of the Gulf of Fethiye. Calis is the only municipal Fethiye beach. READ MORE
Oludeniz Beach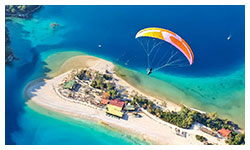 Belcekiz beach is one of Oludeniz beaches and teh same time it is one of the most beautiful and popular beaches in Turkey and it is now a national park. It is called one of the most beautiful places on earth, blue paradise, blue lagoon, the most beautiful beach in Turkey. Due to its location sea is mostly calm and warm in the Blue Lagoon of Oludeniz. Here you can swim right up to January. There are lots of private sandy Oludeniz beaches in Blue Lagoon with restaurants and BBQ night parties. READ MORE
Patara Beach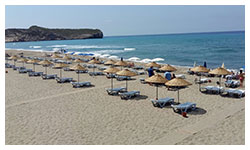 Patara Beach in Turkey is one of the most charming beaches which is located near the ancient city of Patara. The beach is quite long with golden sand and shallow sea - ideal for families with the kids. Caretta Caretta Turtles lay their eggs here. Some time ago Patara beach was recognized as the best beach in the world by Sunday Times newspaper. READ MORE
Kaputas Beach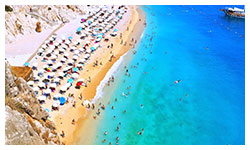 Kaputas Beach is small (length of the beach line is about 150 meters) but actually famous beach in the Mediterranean Sea. It is known for its clean and clear waters of the azure color. Kaputash Beach is located between the towns of Kas and Kalkan.
Kabak Beach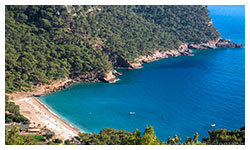 Kabak beach is the beauty of the white as pearls sandy beach with sylvan steep rocks rising over it. It is known for its water sports facilities, archaeological finds and pristine flora and fauna! If you are looking for a relatively quiet place then you have to go to the Kabak Beach.
Gemiler Beach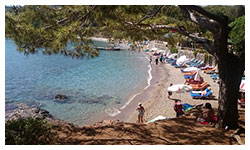 Lovely quiet pebble Gemiler beach is not so far from the Oludeniz. Beach is surrounded by pine and olive trees and located in front of the Gemiler Island (also known as St. Nicholas Island) where you may see the church of St. Nicholas and the ruins of buildings from the Byzantine period. St. Nicholas used to live on this island for many years.
Kidrak Beach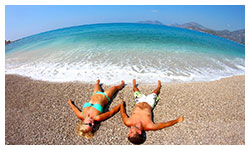 In about 2 km from Oludeniz you can find beautiful beach of Kidrak – the great place to relax among pine trees. Kidrak Beach is national park like Oludeniz Blue Lagoon with sandy beach and crystal clear waters. There are special BBQ facilities for picnic lovers, snack bar, toilets and shower rooms in Kidrak beach Turkey. Kidrak is one of the Oludeniz beaches.
Karaot Beach
Karaot beach is located in the village of Yaniklar in 15 km from Fethiye near the fresh water lake Akgol. The Akgol lake is famous among bird watchers because lots of birds stops there during seasonal migration. The coastal line is under protection so no construction near the lake is allowed. Karaot beach with its rich flora and fauna is great place to touch and feel real nature.
Kuleli Beach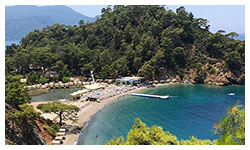 Smell of pine, crystal clear water and far enough from hassle of the town – all this is Kuleli Beach (Kuleli Koyu). It is one of the remotely located Fethiye beaches - on Fethiye peninsula and has restaurant, toilets, shower cabins, sunbeds and umbrellas for rent. Kuleli is pebble, shallow beach so great for whole family and children friendly. At night time Kuleli transforms from relaxing beach to bright beach night club with sparkling atmosphere and good sound.
Aksazlar Beach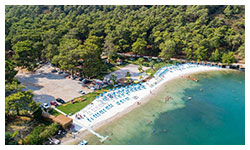 Aksazlar beach is a perfect place to enjoy scenery of Fethiye relaxing and sunbathing on the beach. It is located just line 1 km from the last Fethiye Hotel and there are sunbeds and umbrellas for rent as well as restaurant with lounge area. This Fethiye beach is one of the most favorite places for wedding ceremonies among locals.
Katranci Beach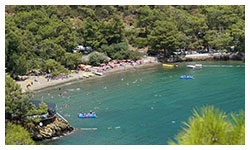 National Park Katranci is located in 15 km of Fethiye on the way to Dalaman airport. Covered with pine and eucalyptus trees secluded beach, blue and warm sea is waiting for you. There are sunbeds and umbrellas for rent as well as restaurant, toilets and shower cabins for your convenience.
Help Beach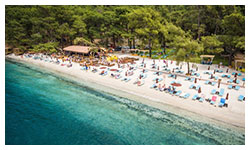 The Help Beach and Yacht Club is located at Kucukboncuklu cove of Fethiye peninsula and it surrounded by pine forest. The beach is with white sand and crystal clear waters. There is a jetty with capacity up to 6 sailing yachts. At your convenience there is restaurant, bar and cafe at Help Beach. Help Beach is most recent Fethiye beach or good quality with all the necessary amenities.
Kumburnu Beach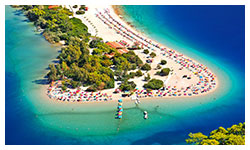 Kumburnu beach is located at the tip of the sand spit which separates famous Blue Lagoon from Oludeniz (Belcekiz) Beach. It has own parking lot, cafes, shower cabins and toilets. Sunbeds and umbrellas can be rented at extra charge as well as paddle boats and boards (SUP). Kumburnu beach is very popular among tourists especially in July and August.
Blue Lagoon Beaches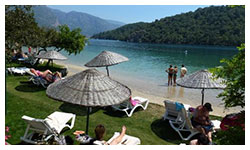 There are several private (paid entry) beaches in the Blue Lagoon section of Oludeniz National Park. All of them are shallow so safe for children. Every beach has restaurant and sunbeds/umbrellas for rent. This part of Oludeniz is immersed in green so sometimes it looks like lake. At most beaches you will be offered pedalo or kayak for rent.