Requirements for Turkey Visa from UK and EU
So you decided to visit Oludeniz, Hisaronu or Fethiye in Turkey and wonder "do you need a visa to visit Turkey" or if you are UK citizen "do UK citizens need a visa for Turkey"? The Turkey Visa information below will help to answer most of questions regarding Visa Requirements for Turkey from UK, EU and other countries. Satrting from March 2nd the citizens of United Kingdom, Austria, Belgium, Netherlands, Poland and Spain are able to travel to Turkey without visa.
Passports are required to be valid at least 60 days longer than the expiry date of the requested Turkey visa and it is kindly advised to have valid passport for at least 6 months as from the date of your arrival, visa exemption period or residency permit to be able to enter the country.
ATTENTION!
Starting from March 2nd 2020 citizens of UNITED KINGDOM, AUSTRIA, BELGIUM, NETHERLANDS, POLAND AND SPAIN are able to travel to Turkey VISA-FREE!
If you have a valid Turkish visa, you do not need a residence permit for up to 90 days. On the other hand, foreigners who shall reside, work or study in Turkey, should register themselves at the nearest local police department upon their arrival in Turkey, regardless of the validity of their Turkish visa.
To work in Turkey, you must apply to the nearest Turkish mission to obtain a work permit and visa for Turkey. Your passport, together with a Turkey visa application form and a letter from your proposed employer are the required documents to support your application. Additional documents are required to be submitted to the Turkish Ministry of Labour and Social Security (MLSS) by your proposed employer within ten working days following receipt of your application. Failure of your employer to submit these documents may invalidate your application.
Standard, Service and Special passport holders - citizens from Australia, Barbados, Canada, China, Croatia, Cuba, India, Iraq, Ireland, Jamaica, Kuwait, Mexico, North Korea, Norway, Oman, Pakistan, Palestine, Qatar, Saudi Arabia, South Africa, Portugal Taiwan, United Arab Emirates, Hong Kong, United States of America, Vietnam, Yemen, are required to have a visa to enter Turkey.
Electronic Visa e-Visa to Turkey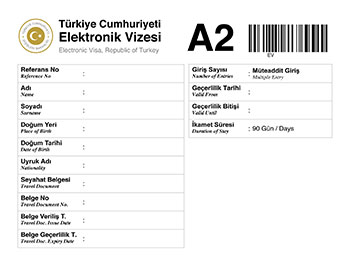 Standard passport holders can obtain three month-multiple entry Turkish visa online (e-Visa) via the website www.evisa.gov.tr. The e-Visa is a new type of visa that replaces "sticker type of visa" issued at the border crossings (Sticker visas will be issued alongside until further notice). Visitors arriving to Turkey without visas may obtain their e-Visas via interactive kiosks placed in Turkish airports but fees for e-Visas obtained online are lowers than the fees for visas obtaind upon arrival to Turkish airports. Nationals who require visa to visit Turkey, could obtain their visa from the mentioned website prior to their journey to Turkey, they also can get visa at airport upon arrival though it is more expenive than getting visa online. Foreigners wishing to enter Turkey should carry a passport with an expiration date at least 60 days beyond the "duration of stay" of their visa.
Standard and Official passport holders from Costa Rica, Latvia, Macao, Mongolia and Thailand are exempted from requiring a visa for their travel for up to 30 days.
Standard and Official passport holders from Bosnia-Herzegovina are exempt from requiring a visa for their travels up to 60 days.
Standard and Official passport holders from United Kingdom, Andorra, Argentina, Austria, Belgium, Bulgaria, Colombia, Czech Republic, Denmark, Estonia, Finland, France, Germany, Greece, Iceland, Iran, Israel, Italy, Japan, Jordan, Kosovo, Lebanon, Liechtenstein, Lithuania, Luxemburg, Macedonia, Malaysia, Malta, Monaco, Montenegro, Morocco, New Zealand, Panama, Paraguay, Poland, Romania, San Marino, Serbia, Singapore, Slovenia, Slovakia, South Korea, Spain, Sweden, Switzerland, Tunisia, Uruguay, Venezuela are exempt from requiring a visa for their travels up to 90 days.
Countries whose citizens are allowed to enter Turkey with their national ID's: Germany, Belgium, France, Georgia, Netherlands, Spain, Switzerland, Italy, Turkish Republic of Northern Cyprus, Liechtenstein, Luxemburg, Malta, Portugal, Ukraine, Greece.
For more information regarding Turkey visa regulations please click here.