Climate and Fethiye Oludeniz Hisaronu Weather
Fethiye climate is very mild; winter is fairly conventional and even night-time temperatures are usually above freezing. Already by March the rainy season ceases, followed by a charming southern spring with the sun quickly warming up to over 18C. By the beginning of April the British tourists start to arrive. The holiday weather in Fethiye in May brings about 11 hours a day of sunshine so you can spend explore everything Fethiye has to offer The only drawback of visiting in April and November is that the night temperatures can be cool, therefore it is recommended to bring some warm clothing. If you wonder what is the holiday weather in Fethiye in April then we have to admit that by late April the temperatures are acceptable for swimming in Oludeniz and Calis beaches. Also weather in Fethiye in April is suitable for various outddoor activities like paragliding or jeep safari as well as boat trips.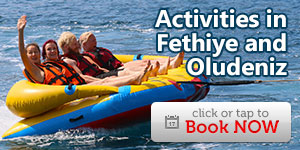 Summer holiday weather in Fethiye and Oludeniz Turkey is perfect for relaxed beach holidays. The hottest months are July and August. Oludeniz weather in June is sunny and sky is mostly clear and sometimes partly cloudy, temperatures hits 30C. Fethiye and HIsaronu weather in July as well as Oludeniz weather in August is really hot and temperature may hit 40C.
During most afternoons along the beaches, there is a consistent and gentle sea breeze that provides a comforting relief from the heat of the day. This breeze arrives from the gulf and also has the effect of naturally warming the sea up to and over 29C.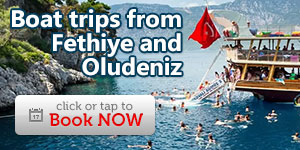 At night the temperature falls to around a comfortable 23C and a popular activity among visitors is night swimming and walking in the romantic moonlight. The gorgeous sunsets of Fethiye and Calis are considered to be one of the area's major local attractions.
The autumn months in Fethiye are actually a continuation of the summer so Fethiye weather in September is still lovely. With more moderate temperatures and usually with fewer visitors allowing for a more peaceful atmosphere in many areas. The water is warm until late October, and daytime temperatures gradually decrease. Fethiye weather in October is till good for beach lazy days. It is possible to swim in Fethiye in November and even in December but in the late autumn the probability of rains increases dramatically. Holiday weather in Oludeniz Turkey generally becomes unpredictable though even in January there are many days when you can walk comfortably in a T-shirt, therefore another wonderful feature of Fethiye is the Fethiye weather.
Ovacik and Hisaronu weather is about the same like in Fethiye or Oludeniz but a little bit cooler (up to 5 degrees lower) since Hisaronu is located 450 meters above the sea level. Hisaronu weather in May may be a little bit chilly and sometimes rainy especially in the beginning of May. Hisaronu weather in June as well as Oludeniz weather in May at evenings and nights can be a little bit cool so it would better to have cardigan or light jacket.
Weather in Calis Turkey is the same like in Fethiye. The best weather in Calis beach is from May till October.
Below you may check Oludeniz weather forecast and Fethiye weather forecast:
Holiday Weather- We provide weather reports for all the major worldwide holiday destinations.