Places to visit in Fethiye Turkey
If you are coming to Fethiye area in Turkey for holidays then it is better to plan attractions and places to see before you visit Fethiye, Oludeniz town and Hisaronu in advance. To get answer for the question "is Fethiye worth visiting" please check almost full list of places to visit near Fethiye below:
Dalyan Town and Iztuzu Beach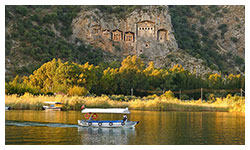 Dalyan is a nice little resort with the main attraction - Iztuzu Beach where from May to October sea turtles (Caretta Caretta) lay their eggs. Dalyan in Turkey is one of the most famous tourist resorts on the Dalyan River near its confluence to the Aegean Sea. Today there are numerous ancient archaeological sites and natural attractions including the ruins of Kaunos, Lycian rock tombs, Koycegiz Lake and others. Because of its location it is all cut up by channels where you can navigate in small boats. Because of this feature Dalyan village sometimes is proudly called the "Turkish Venice". The city is indeed very picturesque and attractive. READ MORE
Oludeniz Town and Beach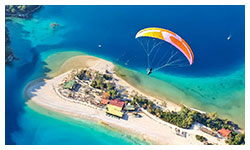 Oludeniz in Turkish means the Dead Sea (Olu Deniz). According to the name of the bay or the Blue Lagoon all the place is called Oludeniz. It is considered as one of the most beautiful places to visit in Fethiye and even in the whole Turkey, blue paradise, blue lagoon - the one of the most beautiful beaches in Turkey. Very attractive place for beach and outdoor activities. Oludeniz town is located in 9 km from Fethiye. READ MORE
Patara Beach and Ancient city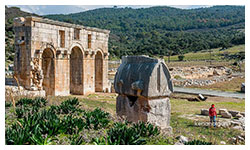 Patara - small untouched by mass tourism town. Vacationing here will appeal to those who prefer a leisurely relax in nature. Patara national park in the past was one of the largest cities and the main port of the Lycian Union. Since ancient times Patara was a major religious center. The famous in Greek world temple of Apollo with oracle was located here. The Apostle Paul with St. Luke stayed in Patara on the road from Rhodes to Phoenicia . The Christian Church existed here since ancient times. Patara bishops played an important role in early Christianity . About year of 270 AD the future bishop of Myra - Nicholas, better known as St. Nicholas, was born and educated in Patara. Patara Beach - is one of the most charming beaches which is characterized by its length, golden sand and shallow sea - ideal for family with the kids. Sea turtles (Caretta Caretta) lay their eggs on Patara beach that's why the beach is guarded. READ MORE
Calis Beach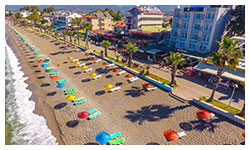 Calis is a suburb resort of Fethiye. Actually best beach in Fethiye is located here, its name is Calis as well. The resort has a charming promenade that stretches for 4 kilometers along the coast. Calis in Turkey is ideal for secluded and peaceful relaxation on of one of the most beautiful coasts of Turkey. Calis beach is one of the mosty visited Fethiye attractions. READ MORE
Hisaronu Town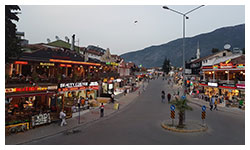 Hisaronu village is a tourist resort with a lot of bars, restaurants and night clubs - all you need for perfect night life. The resort has grown from a very basic village in 1990 to the large resort with its neighbor Ovacık since then. Hisaronu was originally intended to provide accommodation for nearby Oludeniz Town. In response to its friendly atmosphere, Hisaronu has become a holiday resort in its own right. It is very popular with British holidaymakers in particular. READ MORE
Gocek Town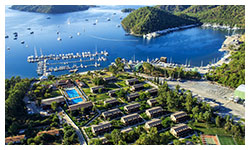 Today Gocek is an international yachting center which has repair yard and four marinas . The ancient name of Gocek in Turkey is Kalimce. According to legend the Icarus landed here after the flight escaping from prison. The sea and nature in Gocek appear in the pristine beauty as if they had just been created. READ MORE
Uzumlu Village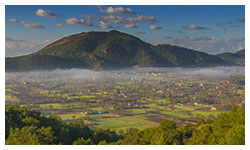 Uzumlu village which means "place of grapes" is located on a picturesque plateau surrounded by emerald hills covered with cedars, pines and mountains. As the name suggests many vineyards are being cultivated in the countryside surrounding the village. In the mountains above the village archaeologists discovered the remains of an ancient Roman settlement - Lycian Cadianda, its ruins date back to the 5th century BC. Visitors of Cadianda can explore the ruins of the castle, the square, stadium, baths, theaters, as well as enjoy a breathtaking view of the surrounding area. READ MORE
Marmaris Resort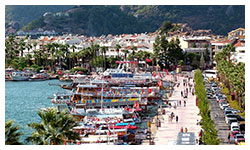 Marmaris - it is one of the most beautiful cities in the south - west coast of Turkey located in one of the world's largest natural harbors where the Aegean Sea meets the Mediterranean, so there are a lot of places to visit and see in Marmaris Turkey. The resort of Marmaris is famous for the longest quay among the Turkish resorts with a length of about 4 km with the nice restaurants and cafes, hotels, clubs and souvenir shops. READ MORE
Xanthos Ancient City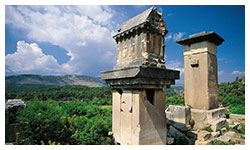 Xanthos was the largest city of ancient Lycia. It is a World Heritage Site. To date only the small part of the ancient city including the theater has been preserved that had been discovered during the excavations. We offer private Fethiye Xanthos tours. The most important monuments of the Lycian culture are typical funeral monuments. READ MORE
Kalkan Town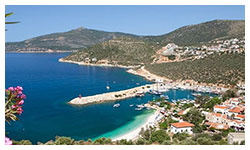 Kalkan town is important (due to the low humidity level) tourism center with its hotels, motels, guest houses, cafes, fish restaurants and marina. The posh silver and gold shops are located everywhere in the town. This city is one of the prettiest resorts on the coast of Lycia. We offer Kas Kalkan Myra Kekova tour. The resort of Kalkan in Turkey is ideal for those who are fond of archaeology as well. READ MORE
Kas Resort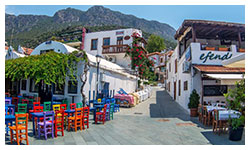 Kas city is one of the most "non-Turkish" resorts in Turkey. It is located in a fairly closed space - at the crossroads of the Mediterranean and Aegean seas and surrounded by mountains and pine forests from three sides. This resort is almost the only area which regular tourist did not reach. The reasons are simple - a sufficiently large distance from the airport and the lack of large hotels. Kas in Turkish language means "eyebrow" and actually if you look at the resort with a bird's eye view the comparison with this part of the human face will be obvious. The coastal waters are considered to be one of the most attractive places for diving in the Mediterranean coast of Turkey. READ MORE
Saklikent Gorge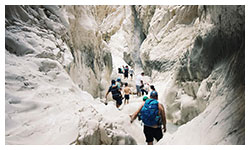 National Park Saklikent in Fethiye Turkey is canyon which is known to the whole world because of its size. The Saklikent Canyon is recognized as the longest and deepest canyon in Turkey and the second largest canyon in Europe. Its length is 18 kilometers, and height is up to 1000 meters at different sites. It has fascinating rocks of natural beauty, several scenic waterfalls and 16 caves. The height difference between the inlet and the outlet of the gorge is 720 meters. Saklikent Canyon is amazing for its pristine beauty! There are forests of red pine growing around it and incredible fast river flowing on its territory, even in summer it is as cold as ice. The area of national park area is 30,620 acres and the word of Saklikent in Turkish means - "the hidden city". READ MORE
Ephesus Ancient City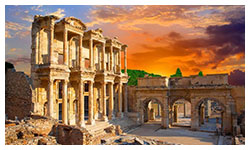 The ancient city of Ephesus in Turkey is a large archaeological complex. Ephesus is the city which is linked to many ancient Greek myths and legends, primarily known for its temple of Artemis (550 BC) - one of the seven wonders of the world that was destroyed by order of the Emperor Theodosius I in 401 AD. Ephesus, as believed to be, is a city of "seven sleepers" - holy Catholic and Orthodox Christians who have been subjected to persecution because of their faith in God. According to history these saints have slept over the centuries in a cave near Ephesus. We offer tours from area of Fethiye to Ephesus. Actually whole Ephesus is an open-air museum lovingly restored by archaeologists. READ MORE
Pamukkale Natural Wonder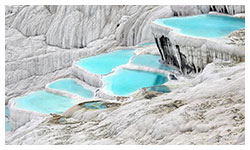 Pamukkale in Turkey is a small village which received worldwide fame due to the unique natural phenomenon located next to it. During hundreds and thousands years the hot calcium rich spring was gushing out from the slopes of the nearby mountains. Cooling and congealing it formed an amazingly beautiful creation like a mountain glacier or waterfall of white water. In the middle of a hot summer you can feel at the vast snowy plain. We offer from Fethiye and Oludeniz to Pamukkale tour. According to legend the Egyptian queen Cleopatra was bathing in these hot springs. READ MORE
Hierapolis Ancient City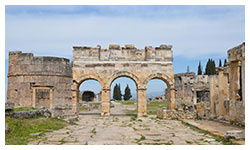 The ancient city of Hierapolis was founded by King Eumenes II of Pergamum in 190 BC. The ruins of temples, palaces and theaters have survived to this day. We offer Fethiye to Pamukkale and Hierapolis guided tours. Hierapolis city played an important role in the spread of Christianity after one of the 12 apostles - St. Philip martyred here. The church erected in honor of St. Philip was one of the most important Christian sites in Asia Minor. READ MORE
Tlos Ancient City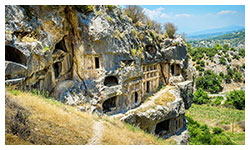 Tlos is one of the oldest cities of the Lycian state in Turkey. It was founded about 2000 BC. In ancient times this great city was the pearl of Xanthos valley and one of the six major cities of Lycia. According to the legend the ancient mythical hero Bellerophon (he defeated the fire-breathing Chimera) was buried here. READ MORE
Butterfly Valley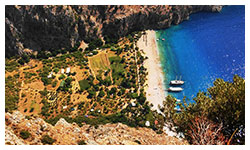 Fans of magical landscapes by all means should go to the Butterfly Valley - a fully enclosed bay near Fethiye and Oludeniz town which is reachable only by boat. Valley with its lush vegetation, waterfalls and tiger butterflies declared as nature reserve. This place to visit is popular among fans of yoga and meditation. READ MORE
Kidrak Beach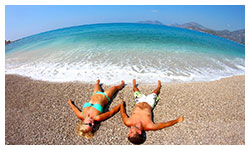 Kidrak Beach is an idyllic beach. It represents a wonderful recreational area which is surrounded by dense pines. Here you can easily find a place for a picnic which will be equipped with everything needed so you will have chance to eat and swim in the clearest sea water. Kidrak beach in Turkey has showers, restrooms and snack bars that visitors can enjoy.
Kayakoy Ghost Town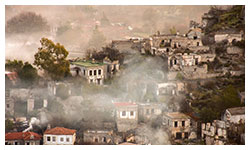 It is valley surrounded by low mountains. The place offers a respite to eye of the traveler. As soon as you enter the valley of Kaya from Hisaronu you will be charmed by the Greek houses which are are empty, they were abandoned during the population exchange in 1923 - Greeks were forcibly resettled from Turkey to Greece that's why it is called Kayakoy ghost town. The village Kayakoy was declared as the Turkish - Greek Friendship Village . READ MORE
Myra Lycia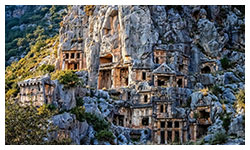 Myra was the capital of the Lycian Federation and one of the largest cities in the Mediterranean. We offer Demre Myra Kekova tour. Emperor Theodosius II in the 5th century even made it the capital of Lycia. The fact that St. Nicholas was buried in the city makes Myra in Turkey a shrine for Christian world. READ MORE
Secret Valley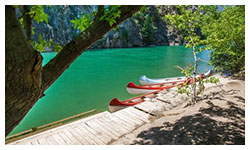 Incredibly beautiful valley is located in the mountains around Dalaman. Beautiful river, waterfalls, ponds, wildlife and mountain amazing views will please your eyes. Wooden bridges and paved walkways lead to different secluded areas, hidden by pine trees.
Babadag Mountain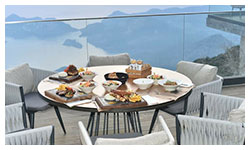 The feeling of being at an altitude of 1700 meters surrounded by clouds is just indescribable and the only place in Fethiye where you can contemplate the majestic sunset which pours gold to Oludeniz and Blue Lagoon is Babadag Mountain. Sitting at a table in the 1700 Grill and Bar on Babadag mountain and having your dinner you can see a lot of paragliders soaring into the sky - their launch point is located to the right of the cafe. BOOK TABLE HERE