Dalyan turtle hospital tour from Oludeniz Fethiye Hisaronu
We invite you to visit one of the most incredible places near town of Dalyan at Iztuzu beach – Sea Turtle Research Hospital and Rescue Center which rescues and rehabilitates injured loggerhead turtles Caretta Caretta in Turkey – the largest hard-shell turtle in the world. If you like animals then Turtle Hospital Dalyan is a must visit place for you. The Dalyan Turtles Sanctuary Turkey is supported of Pamukkale University and they do really great job to protect these wonderful creatures. There are large tanks with several turtles some of them are barely moving due to the head and shell injuries, some of them are missing a limb due to the fishing line entangling and bad boat propeller accidents. You will find out that the most danger for Caretta Caretta turtles is boats without propeller covers as well as plastic bags thrown into the sea.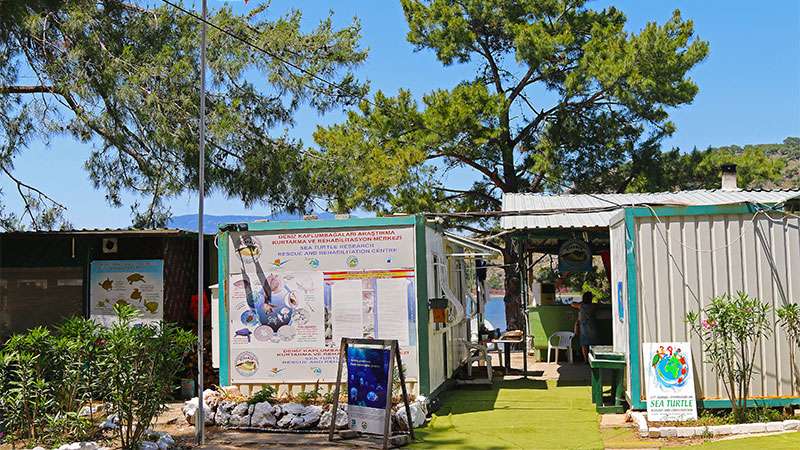 Dalyan Turtle Hospital
The turtle rescue center is located near
Dalyan Turkey
in the beginning of 5 km long Iztuzu beach that is famous for its loggerhead Caretta Caretta turtles that are coming here to lay their eggs in April and May with baby Dalyan turtles hatching in August and September under the cover of darkness that's why any activity on Iztuzu beach is halted so turtles can breed here as they have done do thousands of years.
There is intensive care in Dalyan Turtle Hospital and some time ago badly injured turtle was rescued though to be honest she was doomed to die – the mandible was completely shattered. The turtle hospital Dalyan team with help of innovative Turkish company that makes customized medical prosthetics and implants for humans could rebuild reptile's jaw with 3D printed titanium beak. There are several friendly volunteers working on regular basis at Dalyan Turtle Hospital and Sanctuary who will be more than happy to answer your questions.
There is no entree fee to turtle sanctuary Dalyan Turkey for turtle watching but you can donate or purchase some nice souvenirs – all the profit they make is going to support Dalyan turtle sanctuary and rescue center because it is not commercial organization. The Iztuzu beach turtle sanctuary Dalyan Turkey is great place turtle watching - before you could not see Dalyan turtles so close.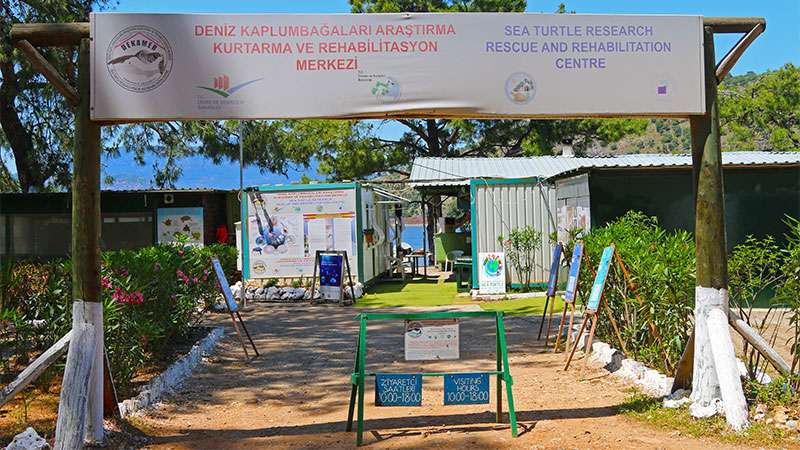 Turtle Sanctuary Dalyan
The road to Dalyan from Fethiye, Oludeniz and Hisarony takes about 1 hour and 15 minutes. Then by the boat we will take you to the Dalyan mud bath and sulfurous springs. It is believed that a bath with thermal water has a beneficial effect for rheumatism, back pain, sciatica, lumbago, nephritis, dermatological and gynecological diseases. Then we will bring you back to Dalyan town by the same boat where you will be served with lunch. And after the lunch the most interesting part of our journey will begin – visit to Turtle Hospital in Dalyan and Rehabilitation Center.
Don't miss the chance to visit Dalyan Turtle Hospital and Rehabilitation Center being on holidays in Fethiye, Oludeniz and Hisaronu.
We do not pretend to be the cheapest on the market, we are just trying to find best Dalyan Turtle Hospital tours from Oludeniz Fethiye Hisaronu of the best possible quality and sell them for reasonable money. Keep in mind that cheaper tours mean cheaper quality.
What is included in the price of Dalyan Turtle Hospital Tour: transportation, entrance fee to the Dalyan mud baths, lunch, professional guide service and insurance.
Extra charges: drinks, donations and souvenirs in Dalyan Turtle Sanctuary Turkey.
You need to bring: bathing suit, sunglasses accessories, camera, money for drinks and souvenirs.
Approximate pick up time: Flexible from Oludeniz, Hisaronu, Ovacik, Fethiye and Calis.
Approximate drop off time: Flexible.
We also offer group Dalyan Mud Bath and Turtle Beach tour from Oludeniz, Hisaronu and Fethiye as well as 100% private tours to sea turtle hospital Dalyan.