Dalyan mud bath and turtle beach tour from Fethiye Oludeniz Hisaronu
The guided tour from Fethiye, Hisaronu, Ovacik, Calis and Oludeniz to Dalyan mud bath and turtle beach in Turkey combines three types of recreation; medicinal, sightseeing, and the visit to the Dalyan beach. The town of Dalyan is located not far away from the town of Ortaca and Dalaman airport. The Fethiye Dalyan tour begins with a visit to the Dalyan mud bath location (thermal springs located near the town of Dalyan) followed by sailing through the narrow channels of the Dalyan river where you will see the ancient Lycian rock tombs. During excursion be prepared for Dalyan river cruise. The Oludeniz Dalyan mud bath tour is completed with a visit to the unique sandy Dalyan beach at Iztuzu, (known as Dalyan Turtle Beach in Turkey) where rare Caretta Caretta turtles lay their eggs. So what things to do in Dalyan Turkey?
On this guided Oludeniz Dalyan mud bath and turtle beach tour from Hisaronu or Calis (we pick up from almost any location nearby Fethiye) you can try the many local delicacies such as grill cooked blue crabs (extra cost).
Dalyan excursions from Oludeniz, Fethiye, Hisaronu, Ovacik and Calis is one of the most popular excursions and tours for tourists to visit the famous ancient Caunos tombs, hot springs, mud baths, and of course the opportunity to see the huge and rare Caretta Caretta turtles.
The delta of the Dalyan river has been recognised as a nature reserve. Here you can see a large number of rare breeds of birds, dozens of palm trees as well as the Caretta Caretta turtles. This place if one of the best near Fethiye for turtles watching.
The Dalyan river connects Koycegiz lake with the sea. The wide sandy spit of Dalyan İztuzu beach is a natural watershed that separates the river from the sea. The sand spit of İztuzu is inhabited by Caretta Caretta turtles to continue their ancient lineage, which is why this sandy spit became known as Dalyan Turtle Beach in Turkey.
Every year each Caretta Caretta turtle lays up to 150 eggs on the Iztuzu turtle beach, but unfortunately most babies hatchlings die from blue crabs and other coastal predators. Adult Caretta Caretta reaches huge sizes 1 meter in length and can weigh up to 50kg.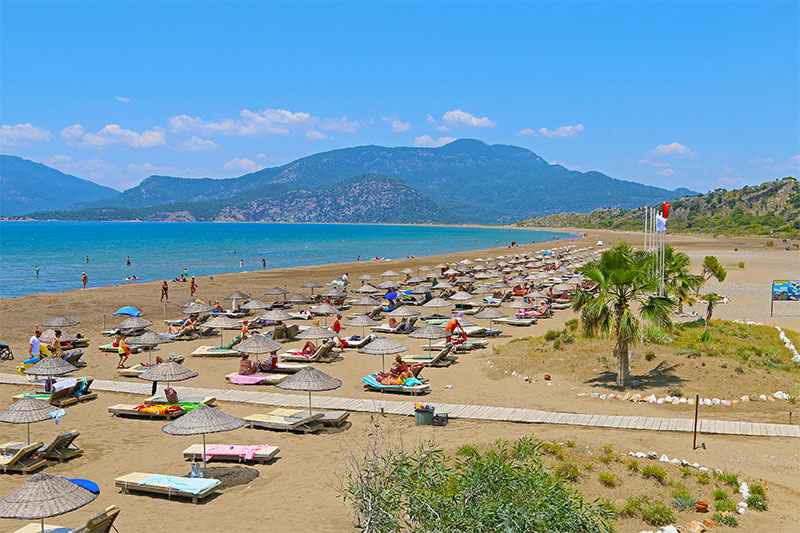 Dalyan Turtle Beach
The width of the İztuzu sandy spit is just few tens of meters. The clean golden sand, calm seas, gentle slope and crystal clear warm water is excellent for a recreation and relaxing on Dalyan Turtle Beach Turkey.
During the Dalyan
boat trips
to the sandy spit local people will arrange small shows where visitors can view the rare Dalyan turtles.
It is only possible to see the ancient rock tombs only from a boat during the the Dalyan river cruise, but worth the trip as the views are breath-taking! The ancient Lycian tombs in Dalyan belonged to the ancient rulers of Caunos and are made directly in the cliffs at a high altitude.
According to the beliefs of the peoples who inhabited this land for thousands of years, the higher the burial tomb the easier the path is to the sky. At the burial tomb they also placed valuable items that their deceased owner with the belief that they would need them in the next life, which is why the tombs' treasures were plundered in ancient times.
There are sulphur springs and mud in Sultanye only 4 km from Dalyan village. The temperature of thermal springs reaches 39 degrees and the presence of the sulphur compounds gives them a peculiar smell. The water also contains radon, chloride and calcium sulphide. It is believed that a baths with thermal water have a beneficial effect for rheumatism, back pain, sciatica, lumbago, nephritis, dermatological and gynaecological diseases.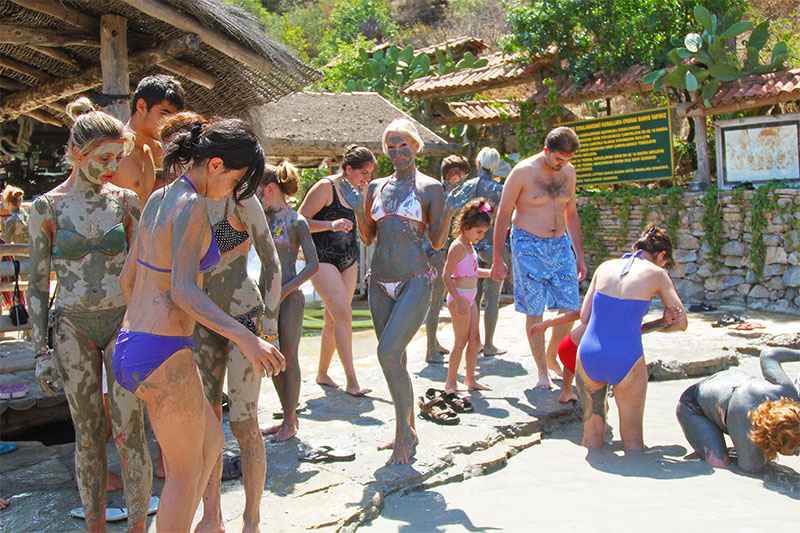 Dalyan Mud Bath
Drinking the thermal water is believed to help alleviate bowel, gall bladder and liver diseases. History of Dalyan mud bath is associated with Aphrodite, the goddess of beauty. It is believed that the local mud provides healing and relief from arthritis, diseases of the musculoskeletal system and skin problems.
If you wonder how far is Dalyan from Oludeniz, Hisaronu, Fethiye then you may not worry it is located not far away: Fethiye to Dalyan 55 km, Hisaronu to Dalyan 70 km, Oludeniz to Dalyan 75 km.
We do not pretend to be the cheapest on the market, we are just trying to find best excursions Dalyan mud bath tours from Oludeniz Fethiye Hisaronu of the best possible quality and sell them for reasonable money. Keep in mind that cheaper tours mean cheaper quality.
What is included in the price: transportation, entrance fee to the Dalyan mud baths, lunch, professional guide service and insurance.
Extra charges: drinks, Turtle Beach entrance fee, blue crabs.
You need to bring: bathing suit, sunglasses accessories, camera, money for drinks and blue crab.
Approximate pick up time: Oludeniz 8.15 am, Hisaronu 8.30 am, Ovacik 8.35 am, Fethiye 8.55 am, Calis 8.40 am (exact pick up time will be given in your booking confirmation).
Approximate drop off time: 18.00 - 18.30 (depending on your accommodation's location).
We also offer 100% private tours to Dalyan with personal professional English speaking guide giving you maximum comfort and flexibility as well as tours to Dalyan turtle hospital.