Tour from Fethiye Hisaronu Oludeniz to Marmaris and Icmeler
This is one of the most exciting tours - a day tour from Fethiye, Hisaronu, Ovacik, Calis and Oludeniz to Marmaris and Icmeler - the cosmopolitan resorts of the Turkish Mediterranean. Things to do in Marmaris Turkey - you can visit the aquapark (entrance fee should be paid extra), visit numerous bazaars and shops, take a stroll along the promenade, visit one of the many cafes in the harbor and enjoy the breathtaking views of Marmaris Turkey. The distance from Ovacik to Marmaris is 135 km. How far is Marmaris from Oludeniz? The Oludeniz to Marmaris distance is 140 km. How far is Marmaris from Fethiye - Fethiye to Marmaris distance is 125 km, same as from Calis beach to Marmaris. How far is Hisaronu from Marmaris, Hisaronu to Marmaris distance is 137 km. The drive time for Fethiye to Marmaris bus is 2 hours 30 minutes.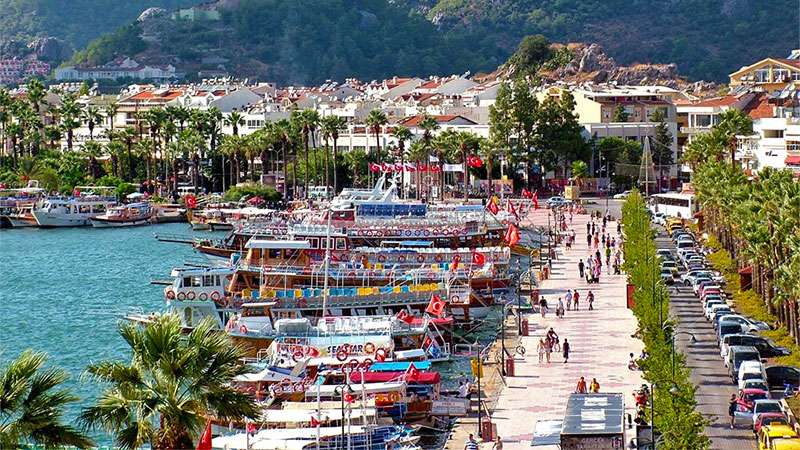 Fethiye to Marmaris
So what is Marmaris like? The resort of Marmaris is famous because it has the longest quay among the Turkish resorts with a length of about 4 km with picturesque restaurants and cafes, hotels, clubs and souvenir shops. This continuous chain lined up from the huge marina up to the mountain that separates Marmaris from Icmeler. The Marmaris beach is surrounded by a double line of palm avenue and stretches across the bay framed by mountains with fragrant oleander bushes and pine forests.
Marmaris is an important center of yachting sport. There are several large marinas in Marmaris. The exact date of its founding is unknown but in XI century BC Marmaris was known as Physkos and was part of Caria. Sometimes Marmaris is called as Turkish Ibiza because there a lot of nightclubs and bars in the Marmaris Bar street where music and fun does not calm down until the morning.
Actually you need to choose which resort to visit - Marmaris or Icmeler. First stop will be in Marmaris so those who want to explore Marmaris get off the bus and the rest will go from Marmaris to Icmeler on our Fethiye to Marmaris bus. Where is Icmeler in Turkey and what is Icmeler like? The small town of Icmeler is located in 8 kilometers west of Marmaris that used to be a part of Marmaris in the past. Icmeler looks like "lost paradise" - the green mountains slopes down to the sandy Icmeler beaches and clear sea under the blue sky is an ideal place for water sports. How far is Icmeler from Oludeniz and Icmeler from Fethiye? The distance from Oludeniz to Icmeler is 145 km, from Fethiye to Icmeler is 135 km.
Icmeler Turkey is especially perfect for families. Sea in Icmeler is always calm, smooth as a mirror and clear. On our tour from Fethiye, Hisaronu and Oludeniz to Marmaris and Icmeler by bus you will get possibility to explore 2 other popular Turkish resorts. How far is Icmeler from Oludeniz? The distance from Oludeniz to Icmeler is 145 km. We pick up guests from Icmeler at 16.00, from Marmaris at 16.30.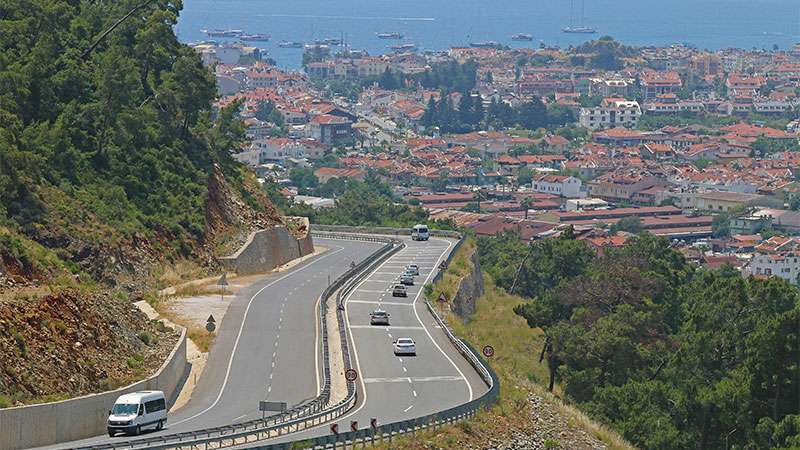 Oludeniz to Marmaris
Take our tour from Fethiye, Ovacik, Hisaronu and Oludeniz to Marmaris and Icmeler and do not forget to buy a main souvenir of this resort - pine honey. This kind of honey you may not find in any country of the world. Book guied tour to Icmeler and Marmaris from Fethiye, Oludeniz or Hisaronu online now!
We do not pretend to be the cheapest on the market, we are just trying to find best guided tour from Oludeniz, Hisaronu and Fethiye to Marmaris and Icmeler of the best possible quality and sell them for reasonable money. Keep in mind that cheaper tours mean cheaper quality.
What is included in the price of guided tour from Fethiye to Marmaris and Icmeler: transportation, professional guide service and insurance.
Extra charges: catering, drinks, entrance fees to aqua-park, sunbeds on the beach.
You need to bring: bathing suit and towels if you plan to visit beach or aquapark.
Approximate pick up time: Oludeniz to Marmaris 8.30 am, Hisaronu to Marmaris 8.45 am, Ovacik to Marmaris 8.40 am, Fethiye to Marmaris 9.00 am, Calis beach to Marmaris 9.00 am (exact pick up time will be given in your booking confirmation).
Approximate drop off time: 18.00 - 18.30 (depending on your accommodation's location).
We also offer 100% Marmaris private tour including Icmeler from Fethiye, Oludeniz, Hisaronu, Calis, Ovacik, Uzumlu and Gocek with personal professional English speaking guide giving you maximum comfort and flexibility.