Orka World Water Park - Fethiye Largest Aquapark in Ovacik Hisaronu Oludeniz
You are welcome to spend your time in the largest themed water park in Fethiye and Oludeniz areas – Orka World Waterpark which is located in Ovacik Hisaronu! The largest Fethiye aquapark was established on an area of 18,000 square meters. There are 13 slides – 1 for adults only, 5 are designed for children only and 7 of them are for both children and adults. There are 4 pools at your disposal - Magnificent Mayan Wave Pool, Volcano Waterfall Pool, Splash Zone and Kids Kingdom. There is a 450 meters long Lazy River flowing around the pools. Guest can use one of the 4 VIP cabins at extra charge if some privacy is needed. There are several food zones in Orka World Aquapark - Agrabah Fast Food Area, Jasmine Cafe and Snack Food Areas. Cold drinks are ready for you at 2 Different Concept Icon Bars and Wiki Bar. Thus you have almost everything to restore your energy and refresh in the shade and keep your great day out going with splashes and fun. Do not worry about your mobile phones,money and valuables – there are also lockers in Orka World Waterpark. Also in case of necessity you can visit market with towels and swim suits, buy souvenirs for your friends and family at a gift shop. For emergency cases we have a doctor. There is a large shower area at your service at our aquapark in Ovacik Hisaronu.
Cash is not used in the Orka World Waterpark – you can load your money to the given on entry wristband and then you can use it for extra expenses like drinks and food. Therefore, you do not have to take money in the pool or slides. There are two cash points in our Orka aquapark where you can load the balance to your wristband – in the Icon Bar and behind a counter. Before you leave the Orka World Waterpark we will take wristband back, check it and give rest of unused money back to you. Please, do not lose your wristband otherwise it will be impossible to get your balance back.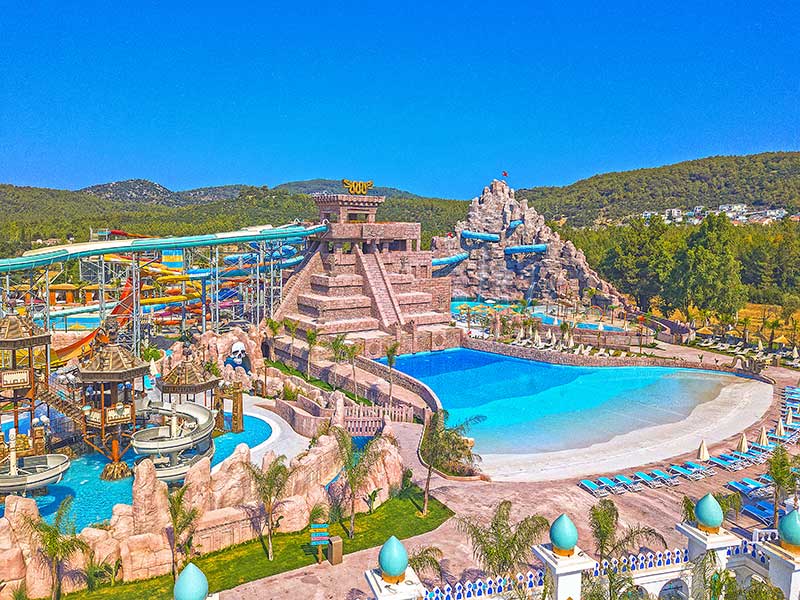 Orka World Water Park
If you are looking for aquapark near Fethiye, Oludeniz, Hisaronu and Ovacik then Orka World Waterpark is your choice #1. There are many slides named Kukul Kan, Vortex, Bu'maya'ng, Maya's Caldron, Tornado, Hazal Falls, Rocket Drop and Aqua Conda. All of them are safe for children as well and have maximum weight restriction of 120 kg. The Magnificent Mayan Wave Pool looks and feels like a sea. Grab a raft and surf along the 450 meters long Lazy River. Please notice that your safety is our highest priority therefore all use of our slides and pools in Orka World Waterpark include height and weight restrictions in terms of guest life safety and these restrictions cannot be stretched or lifted in any way as per the manufacturer's standards.
The Orka World Waterworld Aqua Park is the biggest in the Fethiye and Oludeniz areas. If you stay in Dalaman and looking for a good day out in Fethiye water park then keep in mind that Orka waterpark is largest nearest to Kalkan and Dalaman water park and we will be glad to arrange private tours from Kalkan and Dalaman to Orka World Aquapark including door to door return private transportation and entry tickets, for the price please contact us with the number of people.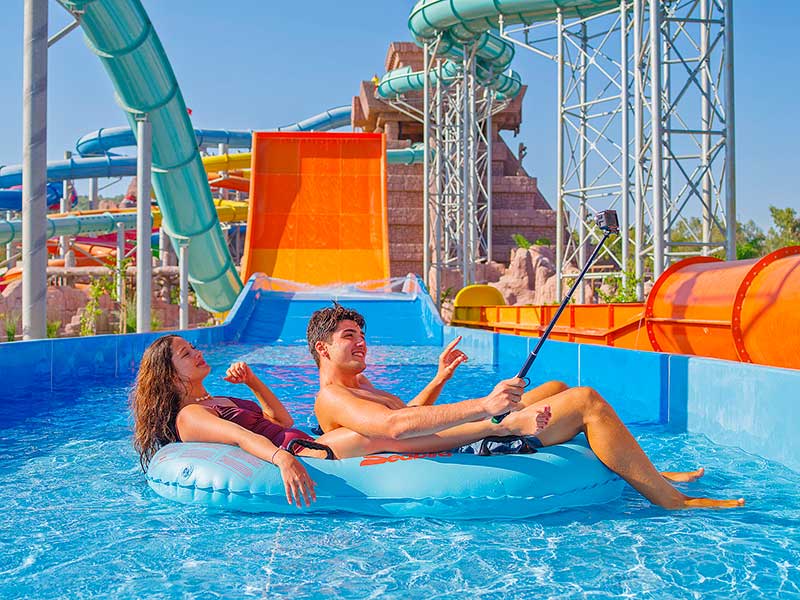 Fethiye Aquapark
The Orka World Waterpark is open every day during summer time from 10.00 till 18.00. Please notice that all food and drinks in the Orka aquapark are extra charged, no outside food or drinks are allowed as well as pets unfortunately. Do not miss the opportunity to have a good day out for all the family at water park Orka World Water Park in Hisaronu - the largest Fethiye Aquapark. Lots of fun, splashes and great mood are guaranteed not only to children but adults as well, even seniors will enjoy. Turn on your full fun mode at Orka World Water Park and variegate your
holidays in Fethiye Turkey
.
What is included in the price of entry to Fethiye Water Park: transportation from Oludeniz, Hisaronu, Ovacik, Fethiye and Calis, entry tickets. Transportation from Dalaman, Uzumlu, Kalkan and Gocek is available on request at extra cost.
You need to bring: swim suit, sunglasses, towels, money for food and drinks.
Workling hours: everyday from 10.00 till 18.00.