Fethiye Market Tuesday Tour from Fethiye Oludeniz Hisaronu
The largest open-air market in Fethiye region is held in Fethiye on Tuesdays. It attracts a huge number of buyers and sellers from all over the region and it is one of the most visited tourist attractions of Fethiye.
Tuesday Fethiye market in Turkey (bazaar) scatters under canvas tents on the banks of the river that runs along the central streets of Fethiye on a sharp turn to the sea. It attracts people for shopping in Fethiye not just from the neighborhood but probably from all around the Lycian coast. Plenty of fruits and vegetables of different varieties, luxury selection of olives both pickled and smoked, nuts, homemade cheeses and sweets, great variety of spices, rice, colored beans, lentils and other cereals – all this you can find visiting the largest market in the area - Tuesday Fethiye market from Oludeniz (there is no Oludeniz market by the way), Calis (it has marketplace itself, Calis market day is Sunday), Ovacik and Hisaronu (they have market themselves, Hisaronu market day is Monday).
The marketplace for manufactured goods is located behind the food market and it not smaller in size. There are many textiles, towels, inexpensive but very decent clothes,
souvenirs
, shoes, bags etc. Like everything else in Fethiye the prices will please you, but do not forget to haggle. If you would like to go shopping with comfort and no hassle then our tour to Tuesday Fethiye market from Oludeniz, Hisaronu, Calis, Ovacik and Fethiye will fit you the best.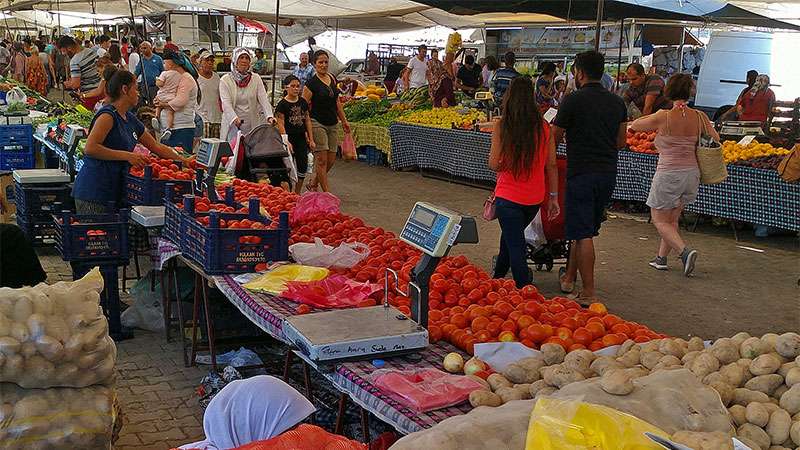 Fethiye Market Turkey
The Fethiye Tuesday market in Turkey is the number one place for bargain hunters. If you wonder when and what day is Fethiye market day then keep in mind that Fethiye market days are Tuesday and Friday but we arrange shopping Fethiye market tours on Tuesdays only. The Fethiye Tuesday marketplace location is very easy to find - just behind the municipal stadium.
We do not pretend to be the cheapest on the market, we are just trying to arrange the tour to Tuesday Fethiye Market from Oludeniz, Fethiye, Calis, Ovacik and Hisaronu of the best possible quality and sell them for reasonable money. Keep in mind that cheaper tours mean cheaper quality.
What is included in the price of Fethiye Market tour: transportation.
You need to bring: money for shopping
Approximate pick up time: Flexible from Oludeniz, Hisaronu, Ovacik, Fethiye and Calis.
Approximate drop off time: Flexible.
We also offer 100% private tours to Fethiye Tuesday market giving you maximum comfort and flexibility.