Oludeniz Quad Biking Safari in Fethiye
The quad biking in Oludeniz, Fethiye and Hisaronu Turkey is good for active people who prefer adventures to relaxing sunbathing on the beach. The Oludeniz quad biking is a perfect way to explore mountain tracks, enjoy picturesque views and have real fun driving automatic and easy even for beginners the quad bikes ATV. Our professional instructors will tell you about the quad bike safari Oludeniz route in details and give safety briefing along with driving lessons to beginners so you will be having a chance to practice driving a quad bike before quad biking safari starts.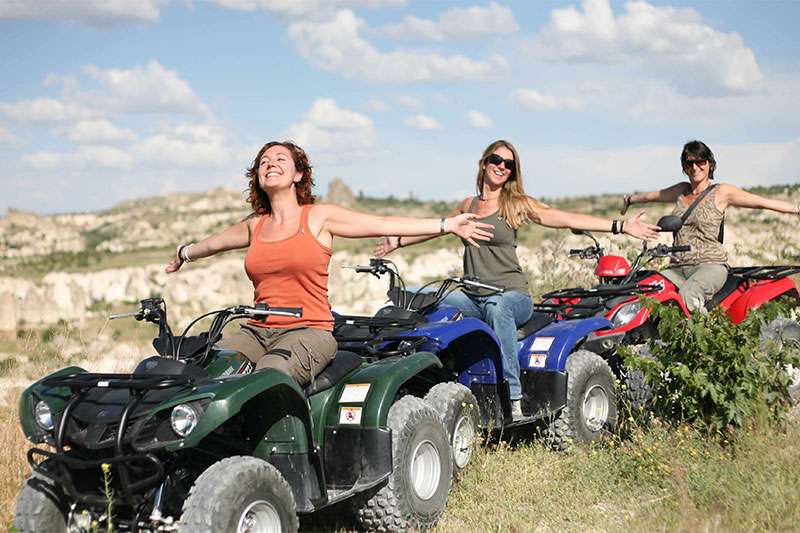 Quad Biking Oludeniz
No special licenses are required though
the minimum age for driving is 17
. Quad bikes are easy to handle even for seniors - no speeding will be involved. Our adventure will be around
Kayakoy (Ghost Town)
with stunning views to mountains and abandoned Greek settlement of Levissi (Kayakoy). Be prepared for the dust during quad bike safari from Fethiye, Hisaronu and Oludeniz Turkey so make sure you dress for outdoors. Quad bike safari in Hisaronu, Oludeniz and Fethiye (ATV safari) is arranged twice a day.
Quad biking in Oludeniz, Fethiye and Hisaronu is real adventure that will be highlight of your holidays. Both single and double quad bikes are available.
Experience the amazing landscapes of mountains and pine forest combined with the excitement of a quad bike ride on this guided tour.
The adventure begins with pickup from the location of your hotel or accommodation anywhere in Oludeniz, Hisaronu and Ovacik (the pick up from Fethiye and Calis is possible at extra charge), and a quick safety briefing with your guide on how to use the quad bikes. Then hop on board your ATV quad bike and start our journey. Explore the Kayakoy Ghost Town, visit a selection of panoramic viewpoints that overlook the mountain and sea and enjoy a very special driving experience during quad biking Oludeniz Turkey. After the activity we will bring you back to your hotel or accommodation.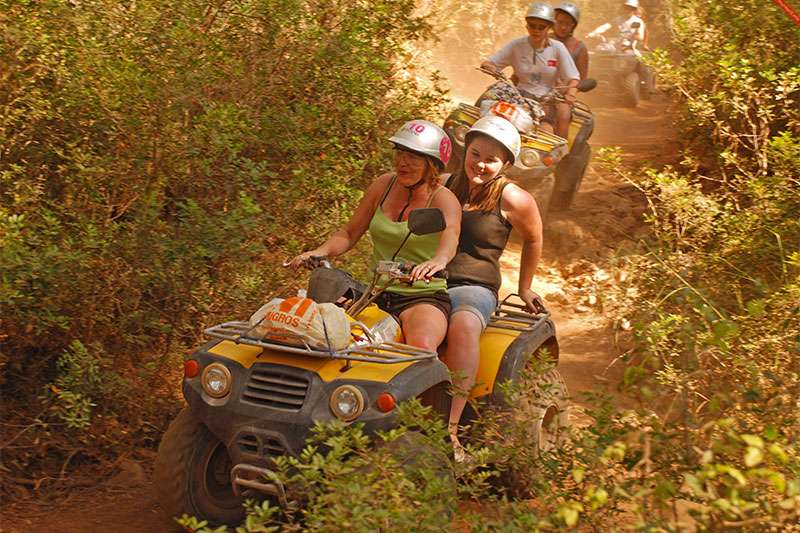 Fethiye Quad Biking
We do not pretend to be the cheapest on the market, we are just trying to find best Quad Bike Safari in Oludeniz, Fethiye and Hisaronu and offer them for reasonable price. Keep in mind that cheaper quad biking tours mean cheaper quality and less safety.
What is included in the price of quad biking Oludeniz: transportation from Oludeniz, Hisaronu and Ovacik, insurance, professional instructors.
You need to bring: comfortable shoes, swim suit, sunglasses, camera, money for drinks.
Approximate pick up time: Oludeniz 8.30 am - 12.30 am, Hisaronu 8.45 am - 12.45 am, Ovacik 8.30 am - 12.30 am, Fethiye 8.30 am - 12.30 am, Calis 8.15 am - 12.15 am (exact pick up time will be given in your booking confirmation). Pick up from Fethiye and Calis is provided for extra charge.
Duration: 2 hours 30 minutes including transportation.