Oludeniz Paragliding in Fethiye from Babadag Mountain Turkey
There is one of the highest commercial take-off sites in the world – Babadag Mountain located near the Oludeniz beach and Hisaronu. If you wonder how high is Babadag Mountain then we need to notice that the Fethiye Oludeniz paragliding height is about 6500 ft (1960 m). Breathtaking panorama and stable weather conditions make launch site for Turkey paragliding from Babadag Oludeniz Mountain the best in Europe for tandem Ftehiye Oludeniz paragliding in Turkey. During the Babadag paragliding Oludeniz flight you will experience exciting 360 degrees turns, wingovers and even thermal flows that may extend the descent. Contrary to popular belief Oludeniz paragliding in Fethiye does not imply just a jump from the height of almost 2 kilometers but the several steps run to take off to the sky. Landing on the Oludeniz beach is as easy as taking off from Babadag Mountain - no rapid decline but just gentle touch down. All pilots are professionals with years of mount Babadag paragliding (parascending) experience so the tandem flight with the pilot is completely safe. You are insured from the moment you get on the transport truck that will take you to the launch site to landing on the Olu Deniz beach.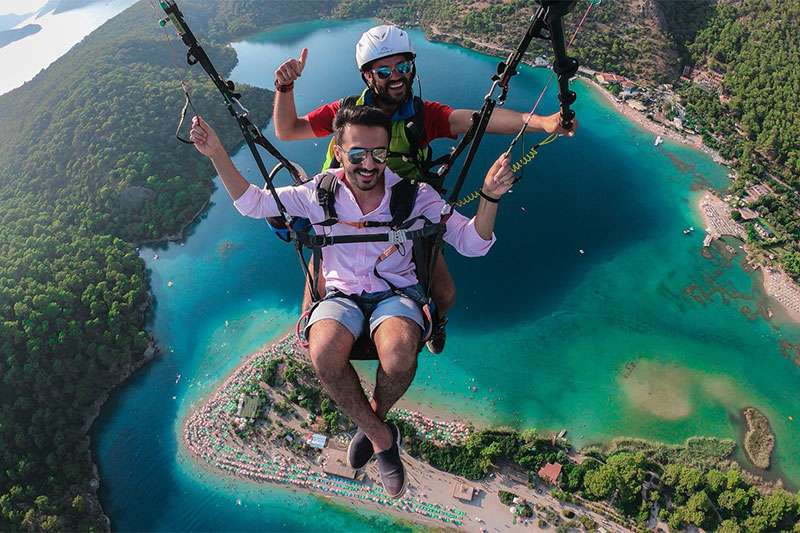 Paragliding Oludeniz
Enjoy breathtaking tandem Oludeniz paragliding Turkey flight with an experienced pilot. Fly along one of the most beautiful beaches in Turkey - Olu Deniz. Total airborne time is 25-30 minutes. During the Fethiye paragliding in Oludeniz Turkey you will have enough time to enjoy bird's-eye views of stunning famous Blue Lagoon and gently land on the Oludeniz beach. Absolutely no experience is required to fly in tandem with pilot, all is under the control of professional and experienced pilot.
Children under 6 years and adults with heart disease and weighing more than 100 kg are not allowed to fly. Each passenger is given a helmet and flight suit. To ensure complete safety our specialists are monitoring changes in the weather and wind direction twice - before transportation to the takeoff point and straight before takeoff. Transportation to the launch site takes about 60 minutes through villages of Hisaronu and Ovacik. For your convinience our mountain Babadag paragliding flights are conducted 5 times a day, please check flight time lots below.
Please notice that flight of Fethiye paragliding in Oludeniz may be cancelled due to the bad weather conditions - your health and safety is our priority #1. In this case your flight is cancelled we reschedule it for the closest possible date. Oludeniz is the place where the International Air Games are being held every year - people from all over the world are coming to Fethiye for skydiving over Oludeniz beach.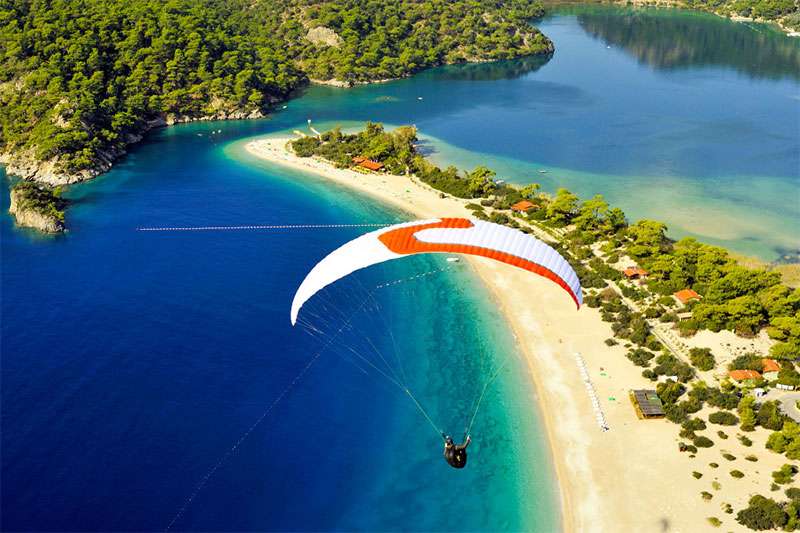 Olu Deniz Paragliding
* Please notice that pictures and tandem paragliding Oludeniz video is available directly from pilot at extra charge.
As for the Fethiye Oludeniz paragliding accident rate then we must admit that due to the high level of professionalizm and constant checks of Turkish Aeronautical Association of our pilots their accidents rate for tandem paragliding in Oludeniz Turkey is ZERO.
We do not pretend to be the cheapest on the market, we are just trying to provide the best possible tandem Oludeniz paragliding pilots for reasonable prices. Keep in mind that cheaper Fethiye paragliding activities mean less safety and our customers' safety is our highest priority.
What is included in the tandem paragliding Oludeniz: transfers, full insurance, professional pilot, helmet and flight suit on request.
You need to bring for Fethiye paragliding: comfortable clothing, sturdy and comfortable shoes (trainers or boots), sunglasses, bottle of water.
Time slots for paragliding Oludeniz: 9.00 - 11.00 - 13.00 - 15.00 - 17.00.
Pick up time: to be given in the booking confirmation. Usually 15 - 45 minutes in advance of preferred time slot.
Olu Deniz paragliding Duration:2 hours (including transfer), 25-30 minutes flight time.