Shopping in Fethiye Hisaronu Oludeniz Shops
You are coming back home and wonder what to buy in Turkey for real Turkish souvenirs and gifts? Below you will find cool gifts and souvenirs' ideas as well as Oludeniz, Hisaronu and Fethiye shopping tips. What is the difference between Fethiye shopping, Oludeniz shopping and Hisaronu shopping? Fethiye is a town where you can find lots of souvenir shops (much more than Hisaronu or Oludeniz shops) as well as big Tuesday Market where you can find the most of things described below at very good price and in wide assortment that makes shopping in Fethiye really beneficial. Oludeniz and Hisaronu are just holiday villages with limited assortment and a bit higher prices.
Turkish sweets and nuts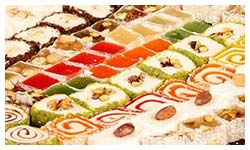 Turkish sweets tempt and attract attention to them. Halva, sherbet, Turkish delight, baklava are most popular types of Turkish sweets. In Turkey you can buy them at any store or market. We recommend trying Pismaniye - Turkish cotton candy with pistachios, chocolate etc. It has incredibly delicate taste with a pleasant aroma. It really melts in your mouth and leaves a nice aftertaste. It is a must to bring the famous and delicious baklava as souvenirs from Turkey. In addition to the sweets you can buy a jar of rose petal jam, a box of Turkish marzipan, dried fruits and nuts. Turkish pistachios (Antep fistik) have way more interesting taste and different shape in comparison with regular ones that are sold in Europe. Don't miss the chance to buy pine honey - it tastes different but it also has curative features especially for man's health.
Turkish spices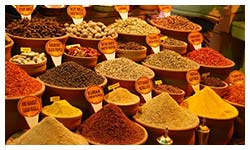 Turkish spices and seasonings are good souvenirs to buy in Turkey. You can buy them anywhere in Turkey. Ground spices are not good for long time storage so choose the best spices and seasonings in the original form. In the souvenir Fethiye shops spices are usually sold packed as well is in Oludeniz shops.
Other food and beverages for shopping in Fethiye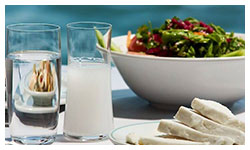 Many people buy coffee and tea as souvenirs of Turkey. Before you buy coffee as a souvenir please find out how to make it from the coffee seller. Tea unlike coffee is grown in the eastern and norhern parts of Turkey. You can buy green, black and granulated fruit tea separately or in a set with a Turkish tulip shaped glasses.
Also you can bring as souvenirs from Turkey the local wine and pomegranate sauce and vinegar for meats and salads.
The Raki - a special traditional alcoholic drink infused with anise will delight alcoholic gourmets. This 45 degrees drink has a specific taste and when diluted with water becomes turbid. By the way in Italy this drink turned into Sambuca.
Turkish ceramics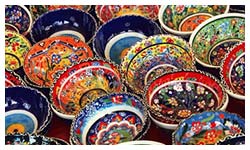 It is great Turkish souvenir that you can buy in a store or market. Turkish ceramics divided into categories based on quality. The strongest one is made of white clay with high quartz content (70-80 %). Such dishes can be used daily at home. To recognize the high quality ceramic dishes from the huge assortment you need to listen to its sound. It should be sonant and similar to porcelain. As a ceramic souvenir you can bring anything - from the simple mugs to elegant amphorae and lamps of oriental style.
Cosmetics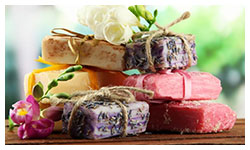 From Turkey many tourists are bringing handmade soaps and lotions with olive oil. Before purchasing it is important to pay attention to the expiration date because natural soap cannot be stored for long time. There is a selection of fruit soap and soap based on olive oil in Turkey. If you wish to buy natural soap based on olive oil then it is better to do it in cosmetic stores. Such soap should not contain dyes and fragrances. Color should be greenish-yellow and typical olive oil smell.
Olives and olive oil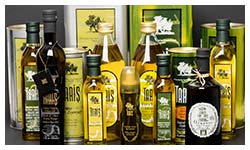 There is large assortment of olives and olive oil in Turkey. The world's main suppliers of high-quality olive oil are Italy, Spain and Greece, Turkey ranks fourth. Here the olive groves are located in 36 regions. The best olive oil is considered to be produced in the Aegean and Marmara coasts. Therefore olive oil shopping in Fethiye is one of the best in Turkey.
Jewelry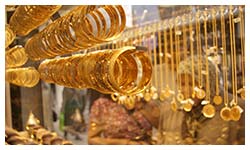 Jewelry lovers will like flowers and birds shaped brooches. The cost of silver and gold jewelry in Turkey depends on the probe of used gold. You can choose both modern and antique style of gold and silver jewelry. Many products are sold with diamond inserts or inserts of other gemstones. Do not be shy to haggle while jewelry shopping in Fethiye, Hisaronu and Oludeniz shops.
Other Turkish souvenirs and clothing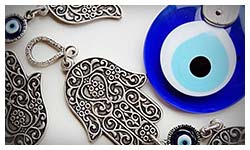 Turkey offers a way to get rid of the evil eye. The Nazar Boncuk amulets in the form of blue eyes of round or oval shape, different products with blue eyes - key chains, magnets, bracelets, and necklaces will keep you in peace. The bigger blue eye, the more effective the amulet! You can read about blue eye and traditions of Turkey at our Turkish traditions page.
If you like cosiness at home then will like a Turkish rug Usak . This merchandise is not cheap and it is better to choose with a specialist paying close attention to the quality, material, pile and color steadiness.
We cannot ignore such a souvenir as a hookah. Turks know a lot about this oriental invention. When buying hookah think its purpose, souvenir hookah unlike real hookah is good to decorate your interior only.
Other cool souvenirs from Turkey are various magnets with shells, different sets for bath with towels and silk mitten for peeling, mini carpets with coins pendants, beach towels with Oludeniz or Fethiye titles, scarves with coins for belly dance, t-shirts, figurines and handbags. Do not forget that the Turkish textiles is one of the best in the world, so you will not regret bringing bathrobes, towels and bed linens from Turkey.
Shawls and scarves with typical oriental ornaments can be purchased as a gift to women – they make them happy for sure.
We would recommend to visit the biggest in Fethiye shopping mall Erasta - there you will find lots of shops with clothes, toys, accessories, cosmetics etc. It is easy to find it - it is located near main bus station in Fethiye. Another good location for Fethiye shopping is old town near Paspatur street.
Bargain everywhere (excluding supermarkets) and always! It is a must! When bargaining during shopping in Fethiye, Oludeniz or Hisaronu (as well as the rest of Turkey) please praise both seller and merchandise. Do not claim that the goods are poor and not worth the money, better to say that you just do not have enough money and the discount is guaranteed. Market sellers accept pounds, euros and dollars but we still recommend exchanging some money to Turkish lira, it is more convenient to pay when buying a trifle. Market days: Fethiye market - Tuesday and Friday (vegetables only), Calis market - Sunday, Hisaronu market - Monday. We hope that our shopping tips will make Hisaronu, Oludeniz and Fethiye shopping for Turkish souvenirs easier and more convenient for you.