Fethiye Jeep Safari - Oludeniz Hisaronu Turkey
You are welcome to discover with us an astonishing way to spend whole day out visiting Fethiye nearby area in an unforgettable safari! The jeep safari Oludeniz is driving four wheels drive cars in Turkish countryside with the necessary accompaniment of professional drivers. Our Fethiye jeep safari is one of the most exciting adventures in Fethiye area, it will give you an opportunity to explore the region in an off-road vehicle. Best Jeep Safari Oludeniz Turkey tour on open-top jeep vehicles is offering unobstructed views of the valleys, mountains, historic and cultural highlights. Jeep Safari Fethiye to Saklikent gorge is one of things to do at least once in a lifetime. Escape the hustle and bustle of Oludeniz and Hisaronu resorts, get out and explore the amazing surroundings Fethiye has to offer.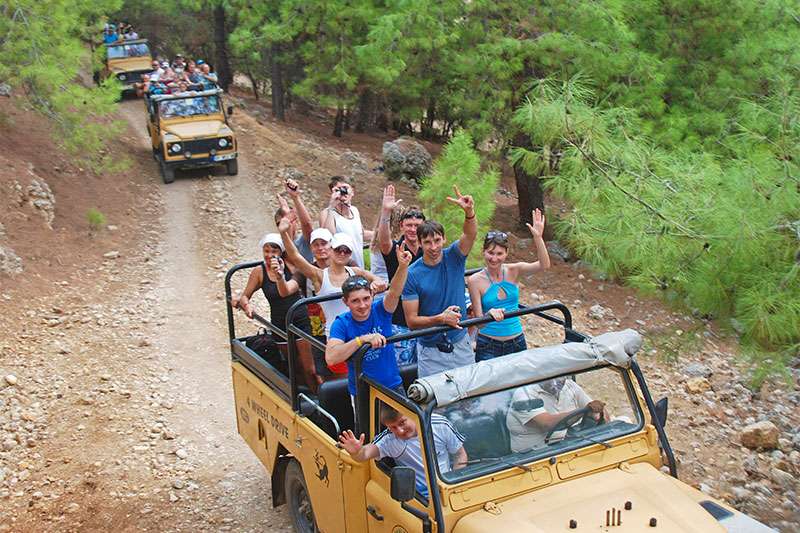 Jeep Safari Oludeniz
The area around Fethiye is packed with things to see and do so we offer you take the break from sunbathing and join us on an exciting and full of emotions Fethiye jeep safari tours from Turkey
Hisaronu
. For our Oludeniz jeep safari we use open top jeeps that will drive you in safety and comfort to ones of most beautiful and remarkable places near Fehiye –
Tlos
, trout farm and restaurant Yakapark,
Saklikent gorge
, mud bath and waterfall. The first place we visit during our Fethiye jeep safari is Tlos – home of Bellerophon and his horse Pegasus.
You may walk in Lycian, Greek, Roman and Ottoman ruins and enjoy stunning views of the mountain. During our jeep safari Fethiye Turkey we visit the trout farm and restaurant Yakapark where you may enjoy magnificent landscapes of restaurant's park zone. Saklikent gorge will strike you with its greatness – it is the second largest gorge in the Europe and the longest and deepest in Turkey. The open buffet lunch will be offered in nice restaurant located near the entrance to gorge. After lunch you will have time to relax laying on terrace located by the mountain river or go
souvenir shopping
at the small bazaar.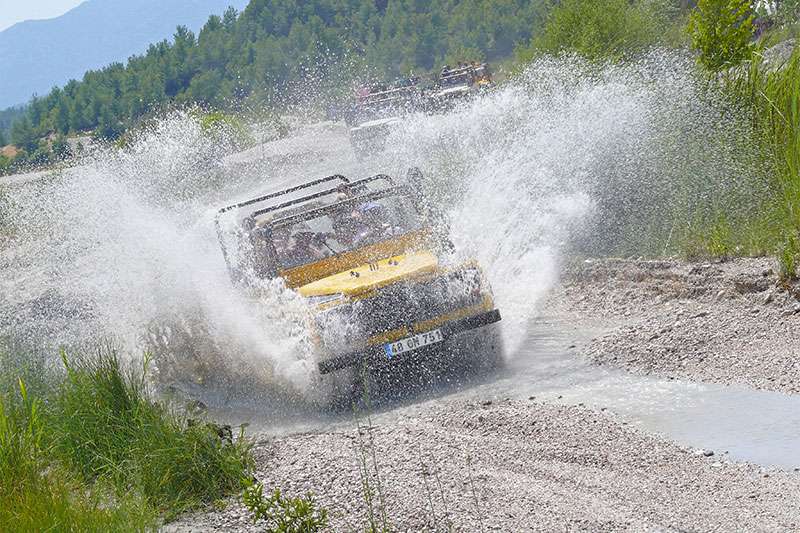 Jeep Safari Fethiye
The next leg of our Fethiye - Hisaronu - Oludeniz jeep safari will be the visit to mud baths and short time swimming in the river. The last stop of our Hisaronu jeep safari will be the waterfall. The jeep safari Fethiye as well as Hisaronu jeep safari and Olu deniz jeep safari is incredible idea of great adventure for whole family.
If you want to enjoy the nature, explore the area near Fethiye and have lots of fun then the jeep safari Oludeniz is what doctor ordered for you. Unleash your spirit of adventure!
We do not pretend to be the cheapest on the market, we are just trying to find best Fethiye Jeep Safari in Oludeniz and Hisaronu and offer them for reasonable price. Keep in mind that cheaper tours mean cheaper quality and less safety.
What is included in the price of Fethiye jeep safari from Oludeniz and Hisaronu: transportation, insurance, professional guide, lunch (excluding drinks).
You need to bring: swim suit, sunglasses, camera, money (for drinks, entrance fees to gorge and waterfall, water gun and water shoes).
Approximate pick up time: Oludeniz 8.15 am, Hisaronu 8.25 am, Ovacik 8.25 am, Fethiye 8.20 am, Calis 8.15 am.
Approximate drop off time: 17.30 - 18.00 (depending on your accommodation's location).