Guided tour from Oludeniz Hisaronu Fethiye to Ephesus and Pamukkale
Going on a 2 day guided tour to Ephesus and Pamukkale from Fethiye, Oludeniz or Hisaronu you will have the opportunity to visit two unique and historically important places - the legendary ancient city of Ephesus in Kusadasi Turkey and the amazing natural wonder Pamukkale.
During the first day of our guided tour from Hisaronu, Oludeniz and Fethiye to Ephesus and Pamukkale we will visit the Ephesus. So where is the ancient city of Ephesus located? The ancient Ephesus is located on the Aegean coast of western Anatolia and it is huge open air museum. The city was founded between XVI-XI centuries BC as Ionic colony by Ionian Greeks from Athens. So what are the Ephesus attractions? Here you can see the ruins of the Temple of Artemis of Ephesus - one of the Seven Wonders of the Ancient World, the ruins of the Celsius Ephesus Library, Roman baths, theater for 24 thousand people and a lot more.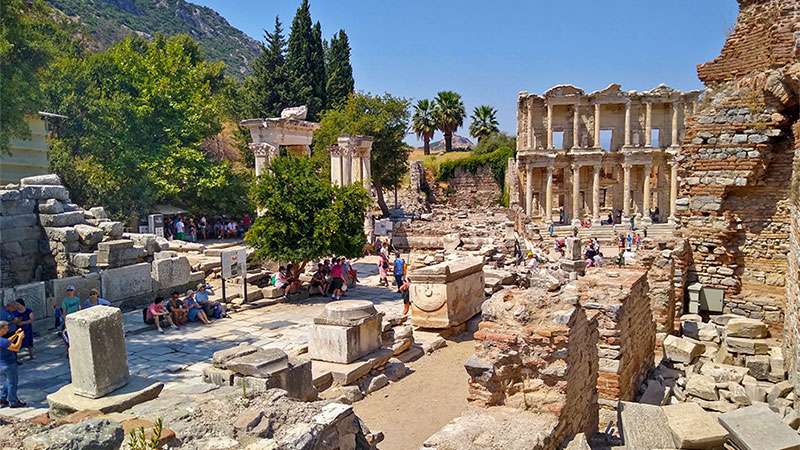 Fethiye to Ephesus and Pamukkale Tour
Ephesus of Christian era was famous because it was visited by Apostle Paul, residence of the bishop and the fact that theTthird Ecumenical Council was conducted here in 431 AD. The Apostle John preached here, he was buried in the church named after him and according to some medieval legends the Virgin Mary (mother of Jesus Christ ) has spend her last days here. Her house is located close to Ephesus.
The first church in the world that was consecrated in the name of the Mother of God has been built in Ephesus in Turkey. The philosopher Heraclitus lived and created his well-known works in Ephesus. In the 5-6 century AD the Ephesus was the second most important city of the Roman Empire after Rome. In Turkey it is the only place where the extent of the great heritage of ancient times was preserved. We will spend several hours (minimum 2 hours) in amazing Ephesus open air museum.
The second day will be dedicated to the visit to amazing natural attraction - Pamukkale. So what is Pamukkale? It is translated from the Turkish as "cotton castle". For many centuries nature was building the white lacy cascades from lime and mineral salts and the formation of which continues today. During the Pamukkale tour you will find out about the miracle from ancient times that was considered a priceless gift that was healing not only the body but the soul as well.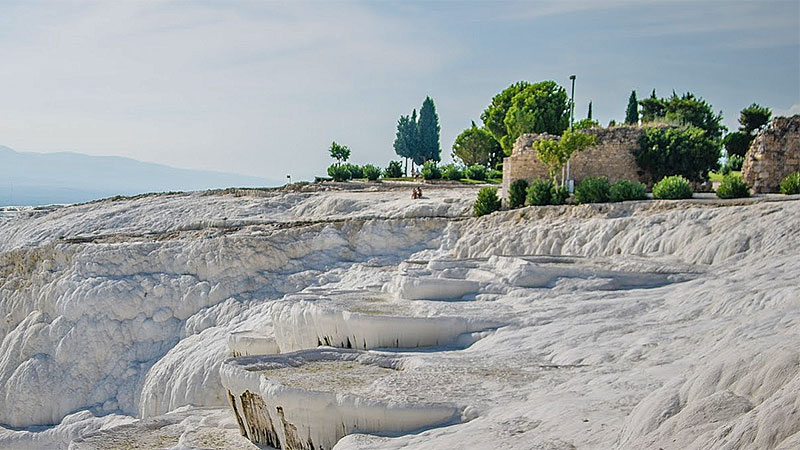 Ephesus and Pamukkale Tour
The visit to the Pamukkale thermal pools with rejuvenating mineral water is included to Fethiye - Hisaronu - Oludeniz to Ephesus and Pamukkale tour. Water temperature in the pool is 35 C. People come here to get rid of rheumatic pain, degenerative disc disease, kidney and liver diseases and cure heart, eye, skin diseases. The distance form Fethiye to Pamukkale is 230 km, from Fethiye to Ephesus - 270 km, from Oludeniz to Ephesus - 285 km, from Oludeniz to Pamukkale - 240 km, from Hisaronu to Pamukkale 235 km, from Hisaronu to Ephesus - 290 km.
If you are looking for 1 day Fethiye - Hisaronu - Oludeniz to Ephesus and Pamukkale tour then please click here.
We do not pretend to be the cheapest on the market, we are just trying to find best tours from Oludeniz Hisaronu Fethiye to Ephesus and Pamukkale of the best possible quality and sell them for reasonable money. Keep in mind that cheaper tours mean cheaper quality.
What is included in the Fethiye to Ephesus Pamukkale tour: transportation, entrance fees to Ephesus and Pamukkale, breakfasts on first and second days and dinner on first day, overnight stay in 3-stars hotel (half-board), professional guide service and insurance.
Extra charges: drinks, entree fee for Cleopatra Pools in Pamukkale. lunches
You need to bring: bathing suit, sunglasses accessories, camera, money for drinks.
Approximate pick up time: Oludeniz 6.00 am, Hisaronu 6.15 am, Ovacik 6.15 am, Fethiye 6.15 am, Calis 6.30 am. (exact pick up time will be given in your booking confirmation).
Approximate drop off time:next day 18.30 - 19.00 (depending on your accommodation's location).
We also offer 100% private tours to Ephesus and Pamukkale with personal professional English speaking guide giving you maximum comfort and flexibility.