Fethiye to Rhodes Ferry Day Trip
A fascinating Fethiye to Rhodes day trip by fast and comfortable catamaran from Fethiye harbor takes only 1 hour 40 minutes one way if you wonder Fethiye to Rhodes ferry day trip how long it takes. Taking the Fethiye Rhodes day trip with ground transportation from Hisaronu and Oludeniz to Rhodes by ferry you can visit Greece and touch the multi-faceted culture and history of this country. Please visit One day in Rhodes for more information where to go and what not to miss on a Fethiye Rhodes ferry one day trip.
Rhodes (Rodos) is the fourth largest Greek island that is located in the south - eastern part of the Aegean Sea. It is known as the "island of the knights", "pearl of the Mediterranean", "island of roses" and as the location of the famous Colossus of Rhodes that was one of the seven wonders of the ancient world.
The island has been inhabited since Neolithic times and has appeared before the year 3000 BC. The immigrants from Crete established settlement on Rhodes around 1550 BC during the Mycenaean dominance in the Aegean Sea. The myth about founding of the island is very poetic. Rhodes came out of the sea due to the God of the sun - Helios. Fascinated by its beauty he was constantly flattering his favorite island by golden rays of sun blessing it and his every blessing turned into a rose. That's why it has name "Island of Roses".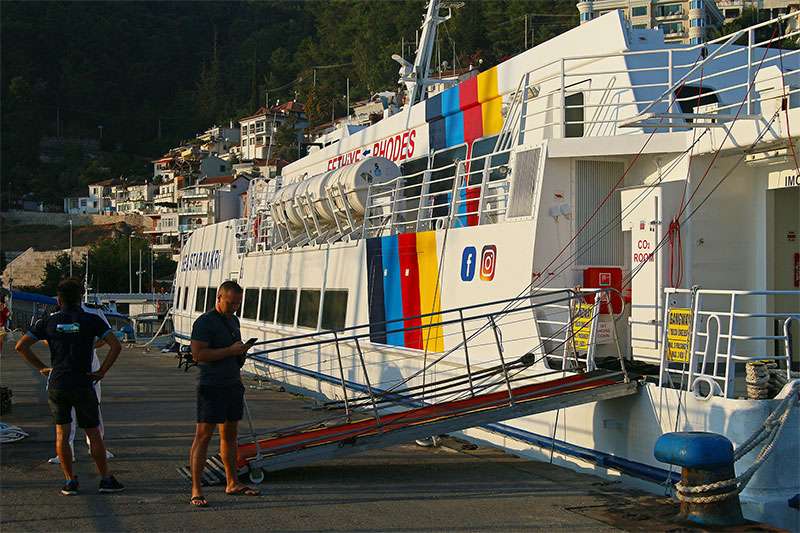 Fethiye to Rhodes
Please don't forget to take your passport because you are travelling to another country and if you are not using cards then it would be sensible to bring some Euro's.
Once you got by ferry from Fethiye to Rhodes day trip be sure to take the time to review the historical heritage of the island. Visit the popular tourist destination - the mountain called Tsambika. The monastery with miraculous icon of the Virgin Mary is located there. Do not forget also about Epta Piges that is translated as "seven springs". This is a small nature park that is located near Archangelos where the amazing seven springs gush from the rocks.
The Grandmaster's Palace (built in VII century AD), the Street of Knights (by the way is one of the best preserved and most delightful medevial relics on ancient world), the famous Valley of Butterflies and the ancient city will attract romantic people - wonderful locations for a declaration of love or marriage proposals. Speaking about the Rhodes Castle, it is a World Heritage Site by UNESCO as a historic monument of the island.
As for the gastronomical highlights of Greece, we definitely recommend to try frozen Greek yoghurt, feta cheese that's made from sheep/goat milk, locally brewed Mythos beer.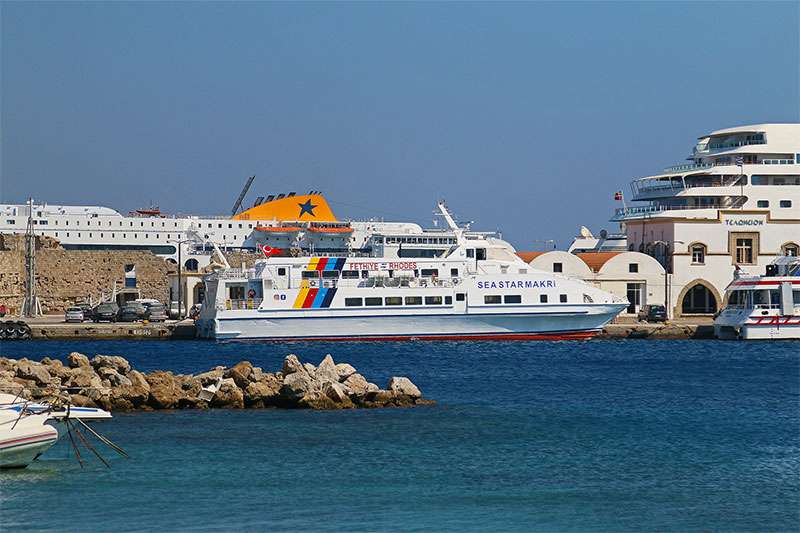 Fethiye Rhodes Ferry
Rhodes is a great place for shopping, especially for those who are interested in buying fur products so being in Fethiye do not miss the chance to travel by Fethiye Rhodes ferry. Before the ride back from Rhodes to Fethiye please don't forget about Duty Free shop at harbor. Fethiye is one of several towns that offers Turkey to Rhodes day trip, other towns that also have ferry trips to Rhodes are Bodrum and Marmaris.
Check Fethiye to Rhodes ferry timetable below at "pick up time". We pick up from Hisaronu and Oludeniz to Rhodes ferry day trip.
Fethiye to Rhodes ferry timetable:
Departure from Fethiye: 8.45 am (port meeting at 7.45 am) - Arrival to Rhodes: 10.25 am
Departure from Rhodes: 16.30 (port meeting at 15.45) - Arrival to Fethiye: 18.10
Fethiye to Rhodes to Fethiye Ferry is available on the following days of the week:
May: Everyday
June: Everyday
July: Everyday
August: Everyday
September: Everyday
October: Everyday
November: Friday and Sunday
What is included in the price of Fethiye to Rhodes ferry day trip: transportation to harbour of Fethiye (only for same day return trips), ferry from Fethiye to Rhodes round trip or one way tickets and insurance.
Extra charges: catering, drinks and other personal spendings, port tax (5 EURO per person).
You need to bring: PASSPORT, bathing suit, sunglasses, camera.
Pick up time: Oludeniz 7.00 - 7.15 am, Hisaronu 7.15 - 7.30 am, Ovacik 7.15 - 7.30 am, Calis 7.15 - 7.30 am.
Approximate drop off time: 19.10 - 19.50 (depending on your accommodation location).
If you are staying in Rhodes and want ferry Rhodes to Turkey day trip then please notice that Rhodes to Fethiye ferry day trips are also available on request, just contact us for schedule and Rhodes to Turkey day trip cost.