Climate, weather and temperature in Fethiye Oludeniz Hisaronu
Fethiye because of the mild sea climate is attractive to tourists in all seasons of the year. The special microclimate of the area has a positive effect on the sun and sea bathing. Weather in Fethiye is predictable - during the summer sky is cloudless and calm summer holidays will never be interfered with the north wind because Fethiye Turkey is secluded by mountain forests. The ideal ecological purity of the entire area with an abundance of exotic greenery and mild Fethiye climate is what makes Fethiye different in comparison to other Turkish resorts. Fethiye welcomes vacationers all year round. Almost every season in Fethiye has its own charm and you always can find what to do and where to go in this amazing pearl of Mediterranean Sea.
High and Low Seasons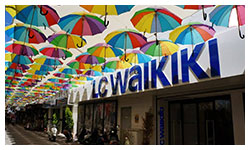 Mostly tourists go to Fethiye in the summer months. At that time life in the resort rages. Restaurants, bazaars and winding streets of the old city are always crowded. However there are many unspoilt beaches and rocky coves in the suburbs. People of all ages like to relax in Fethiye. There are a lot of married couples with children in Fethiye area including Oludeniz and Hisaronu in July and August - high season months. Low season is from May till June and from September till October.Fethiye weather in October is typical for indian summer. Low season is time for those who don't like heat and crowd and come to Fethiye and nearby resorts for getnle sun and relax.
Off Season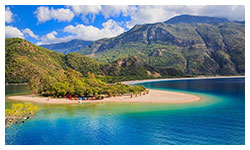 Around the end of October guests of the resort literally evaporate. It is the end of the season - intensity of weather precipitation gradually increases and swimming in the sea is getting complicated - the Oludeniz and Fethiye sea temperature is becoming cold. City plunges into a restful sleep that lasts until the end of April. However The New Year's Eve and Christmas are the exceptions. Especially for these events many coastal cafes and restaurants open their doors again. Many foreigners eager to celebrate the New Year and Christmas in a warm and sunny location with a gorgeous sea view.
Beach Season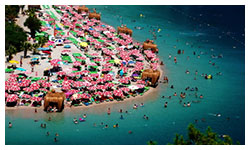 Once in May the sea temperature in Fethiye, Oludeniz and Calis reaches 20C the swimming season is considered opened. The Fethiye weather in May is just perfect for any activities. In the first summer month the Mediterranean Sea warms up to 22 C. It is time for an active beach holiday. In Fethiye and Oludeniz you can not only swim and sunbathe but combine the lazy way of recreation with the various activities such as paragliding, scuba diving, water skiing, kite surfing etc. In July and August the water temperature in Oludeniz and Fethiye reaches a maximum level of 27 C - 28 C. Fethiye weather in July and August is really boiling though Hisaronu weather is much more better and cooler. During high season months in the afternoon on the beach it is better not to appear – sun is very strong but after 4 pm the sun is getting safe and the tan is soft. In September a heat recedes a little bit and the water is getting a few degrees cooler. Swimming season ends in late October, yes, it is true, Fethiye weather in October is still good for swimming and sunbathing.
Indian Summer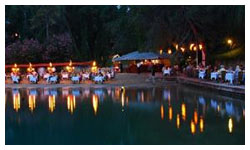 From mid-September to late October there is Indian summer in Fethiye. Fethiye weather in September is great for little holidaymakers- not that much hot like in July and August. This is a time of grace when you feel comfortable even during the midday hours and the water is still nice and warm. Usually this time most of the tourists leave the resort and all the original features of the Fethiye are becoming clearly visible in everyday life.
The Best Time for Fethiye Excursions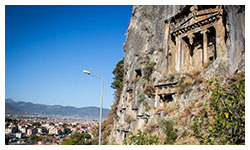 Fethiye is a real find for those who like all the ancient archaeological delights. The fact that the city has been almost completely destroyed twice and then many ancient ruins of pagan temples, Lycian tombs, the remains of the amphitheater remained here. You may find more about the complicated history of Fethiye in the City Museum. The Blue Lagoon in a nature reserve Oludeniz, numerous islands near Fethiye and Oludeniz along with charming bays with olive groves etc are one of the most impressive sights in Fethiye and area nearby. The ideal time for excursions is middle-late spring, early summer, second half of September and all October.
Fethiye festival season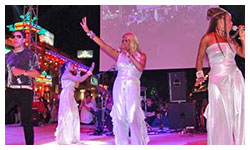 Those tourists who are looking for more than just amazing exterior of Fethiye are recommended to visit at least one of the local festivals that are very energetic, colorful and bright. A whole week of April is dedicated to the "Children's Festival" where young travelers from all over the world fly to. If you would you like to touch the true Turkish coloring then come to Fethiye in May at the two-day carnival with a solemn procession and open-air concerts. On the second Sunday of May the "Tomato Festival" I being held where you can observe how to properly harvest and taste the dishes cooked with this vegetable in one of the restaurants of the city.
Spring in Fethiye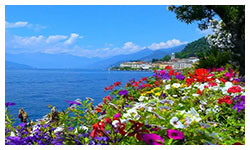 The rainy time is behind, ahead - lots of sunny and warm days. March is the transitional period between winter and spring. In April a very warm weather establishes and the thermometer reaches 21 C - 22 C. Gentle sunlight lit up the ground and dry out the puddles. All the surrounding nature - orange, olive and grape trees, cedar and pine forests, pomegranate trees and sprawling palm trees please by emerald shimmer. Afternoon the weather in Fethiye in May is hot and the air temperature in Fethiye is about 25C (same for Oludeniz weather in May), in Hisaronu and Ovacik 23C. The beach season is considered opened - you can sunbathe and swim. However it should be noticed that it is pretty cool in spring evenings. Light breeze blows from the sea so it is better to have clothes that you can throw on the shoulders at this time of day. Spring in Fethiye is perfectly tuned time for independent trips to the countryside and participation in numerous excursion programs.
Summer in Fethiye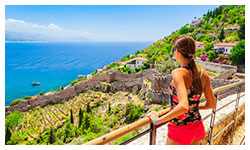 Summer in Fethiye is hot and very dry. It rains very rarely. There is a rapid jump in temperature in June and this month's daily temperature never drops below 30C, so Fethiye weather in June is great for sunbathing and swimming. Hisaronu weather in June (as in other months) is a little bit cooler than in Fethiye. Summer time is quite busy in Fethiye though this resort is like no other retains its identity and originality. The water in the summer is very warm. The rugged coastline of Fethiye area hides several cozy rocky coves where even during the peak tourist season you can retire and enjoy the silence. Boat tours along the many bays with close approach to the intricate caves, fascinating cruises on luxury yachts, paragliding from the Babadag mountain – all these and many others will make you enjoy the summer months here. Rhythm of resort life is getting a little bit faster - young people go to restaurants and night clubs. But it should be noticed that this does not create such a noise like in Antalya or Marmaris. Therefore even in the high season you can relax for 100% in Fethiye Turkey.
Autumn in Fethiye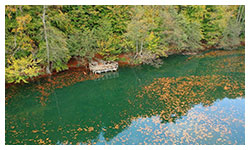 Since the second half of September the temperature in Fethiye begins to decrease gradually. Fethiye weather in October is still quite warm and the sea water is very comfortable for swimming in Calis beach and Oludeniz. However with the start of this month rainy days begin to come. Fethiye weather in November - the proximity of the winter is being felt - in the morning the air temperature in Fethiye does not exceed 14C and at night drops to 8C. Hisaronu weather in October is a bit chilly at evenings so cardigan is required.
Winter in Fethiye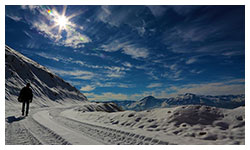 Fethiye winter is quite rainy time although quite warm. Rains may appear for a short time followed by overcast and sometimes sunny weather. Nature swings its mood on regular basis and if it is rainy for a few hours in the morning then it does not mean that the weather will not get clear afternoon. Afternoon air does never gets colder than 13C and at night the temperature is above 3C. In winter time some tourists are coming to Fethiye for a few of days to warm up a little bit and change the usual gray scenery to a completely different environment with a different culture. But another interesting fact is that snow and ski/skating is also possible during winter time - you just need to go beyond village of Uzumlu towards Nif village or you also can go to the Seki Ski Center in 70 km from Fethiye with all the required facilities including ski lift.