Road Safety in Fethiye and driving in Turkey
Following a few simple road safety tips can help make your driving holiday in Fethiye Turkey safer and more enjoyable. Find out more about driving in Turkey requirements.
Turkey driving side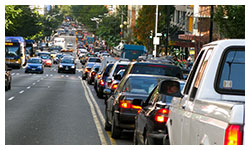 If you wander "what side of the road do they drive" then please notice that Turkey driving side is right one of two-way roads. Ask passengers to remind you of this every time you set off and when you are turning at an intersection. You should always remember to look left, then right and then left again when you are walking across the street if there are no traffic lights close by.
Seatbelts and child restraints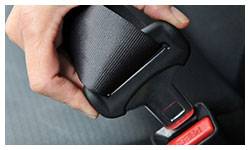 Seatbelts must always be worn when driving in Turkey. All passengers in the car must also wear seatbelts. Children under age 12 must, height 135 cm and weight 36 kg should be in a child restraint on the backseat.
Obey the Turkish road signs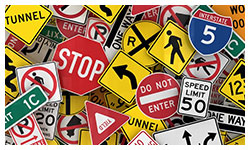 You should familiarise yourself with the Turkish road signs in Turkey and make sure you obey them. Please notice that unlike in Europe the traffic in the roundabout does not have right of way without a sign.
Road markings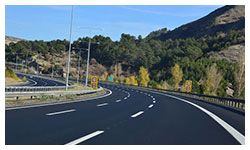 Where the centre line marking on the road is a single broken line, vehicles may cross the line to overtake when it is safe to do so. If the centre marking has two lines you must not overtake if the line closest to your vehicle is unbroken. If the centre marking has one solid line you are not allowed to pass the vehicle ahead.
Speed limit in Turkey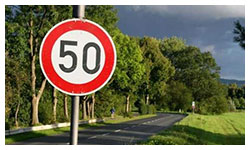 Speed limits are strictly enforced in Turkey. The speed limit in Turkey is the maximum speed permitted on that road and you must not drive above the speed limit in Turkey at any time. Some Turkish roads do not have visible speed limit road signs, but speed limits still apply. You should be especially careful in residential areas and in school zones. The speed limits in Turkey - for urban areas is 50 km/h, rural areas 90 km/h and motorways 120 km/h.
Alcohol and drugs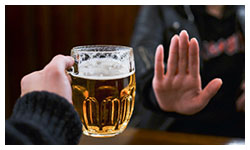 Driving under the influence of drugs or alcohol is extremely dangerous and Turkey has very serious penalties if you are caught doing this. In Turkey you are not permitted to drive a car if your blood alcohol level is 0.05 per cent or higher if you drive alone but in case there are other people with you in the car then your blood alcohol level should be absolute zero. In Turkey, those found driving through Turkey while drunk can either be fined or jailed depending on the nature of the offence. Driving in Turkey after taking drugs that affect your ability to drive is illegal and penalties are severe.
No mobile phones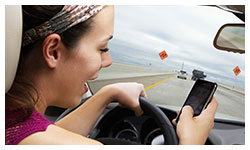 You are not permitted to use a handheld mobile phone when driving in Turkey. This includes making or receiving calls, texting, playing games or web browsing. Please use headset while driving in Turkey.
Road conditions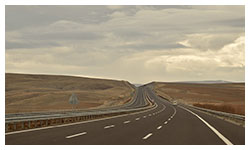 Road conditions in Fethiye can vary from a sealed road surface to gravel and unsealed roads. Most of roads in Fethiye and nearby areas as well as most Turkish roads are sealed and of good condition. You should also avoid speeding on unsealed roads to avoid dangerous hazards like holes, soft road edges and changing road surfaces.
Watch out for wildlife and livestock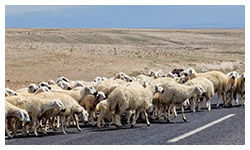 Watch out for wildlife on the road such as wild boars in rural areas and mountains. Livestock such as cattles, cats, dogs, chicken, goats may also graze on the side of an unfenced road in the countryside. You should always be travelling at a safe speed, so if an animal crosses in front of you, you can further reduce your speed. Do not attempt to swerve your car violently or you can roll off the road.
If your vehicle breaks down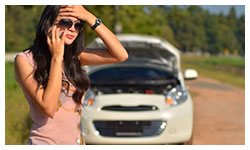 If your rented vehicle breaks down, do not leave your vehicle as it will provide you with shade and protection from weather conditions. Call your rental company and wait for help to come to you.
Emergency assistance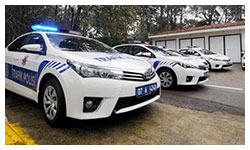 155 is the number for traffic police in Turkey. The Traffic Police must be called in the event of an accident where there are injuries or death. Here is the comprehensive list of all useful phone numbers in Fethiye.
Driving during month of Ramadan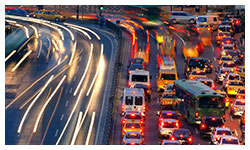 Many Muslims all over the Turkey fast between sunrise and sunset so they eat no food, drink no water and other drinks and even do not smoke, this may cause deleterious effect on levels of alertness. Also please notice that Ramadan Bayram (ending of Ramadan) causes a dramatic increase of intercity traffic which lead to numerous car accidents. Here you can find the list of all public holidays in Turkey along with current year dates.
Turkish driving habits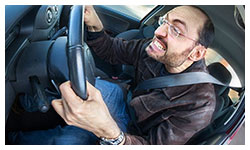 Sometimes traffic signals are placed at intersections the way it is difficult for the first car to read them that is why it is feature of Turkish driving is to honk the horn when the signal has changed to red-yellow (green is coming in a second). So do not be scared by horns from cars behind as soon as the signal changes. Turkish drivers are following each other too close which may easily cause accident. Drivers in Fethiye almost always pull over to the right and let vehicles pass before they turn left – it is one of the strangest habit, so be prepared.
Car hire and driving age in Turkey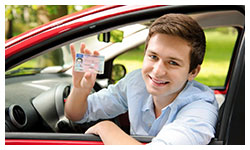 Car rental in Fethiye can be extremely cost effective when planning to travel around Turkey by road. When renting a car in Turkey, there are certain essential requirements which are common across the car rental industry, including holding a valid driver's licence; a credit card as a form of security; and passport for ID. Driving age in Turkey is 18 years old. You need to be 19 years old at least to be able to rent a car. We offer great variety of cars for hire in Fethiye, Oludeniz, Hisaronu, Dalaman airport etc.
Motorcycle and bicycle safety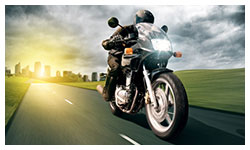 If you a riding a motorcycle, moped, motor scooter you are required to wear a helmet at all times. If you are riding on a road, you must obey all Turkish road signs and traffic signals, including speed limit in Turkey. You should always pay careful attention to road conditions and always allow plenty of room. Use your indicator if you are changing lanes or overtaking. Ride with headlights on and wear protective clothing.