Getting around Fethiye and how to get to Oludeniz
The best way to get around Fethiye and the surrounding area is to hire a car in Fethiye Oludeniz or Hisaronu but you can also use public transportation or walk along the streets. Beaches, attractions, shopping and entertainment facilities are located within walking distance of the roads. Below you may find advantages and disadvantages of most popular ways of getting around in Fethiye and area nearby including Calis water taxi and how to get from Fethiye to Oludeniz.
Rented car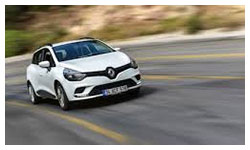 This is perhaps the most comfortable way of getting around in Fethiye. The advantages of this way include the following - you may not depend on anyone and at any time you can go to the beach or go shopping, discover the historical sites, explore the surroundings of Fethiye or visit numerous cafes and restaurants. But this method has its drawbacks. The most important disadvantage is the cost of fuel, Turkey has one of the most expensive petrol in the world. Rent a car in Fethiye is not that much expensive but still not cheaper than public transportation and the parking is getting a real problem in Fethiye. As you know diesel cars are more efficient but their rent is more expensive. Another disadvantage is the limited number of parking space in the center of Fethiye so if you are going to visit the central part of the city in the midst of the holiday season then it is better to use public transportation. All parking facilities in Fethiye are not free and should be paid in cash to the parking attendant. Be sure to pay for parking on time to avoid penalty. All the parking attendants in Fethiye wear uniform so you can find them easily. It is forbidden in Turkey to drive a car after drinking alcohol (even one beer), violation of this may lead to real prison sentence. Please also check our road safety tips to avoid unpleasant situations.
Public transportation - dolmus and bus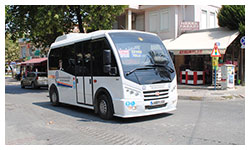 The most common type of public transportation in Fethiye is minibus. It is called here dolmus (dol-moosh). The most important advantage of Fethiye dolmus is its low cost and high service frequency so you do not wait for long standing on the street. Dolmus may stop almost anywhere on the route on request. Fethiye dolmus routes cover almost all area so you may easily get from Calis to Fethiye via Gunlukbasi, from Tasyaka to Karagozler, from Fethiye to Oludeniz, Hisaronu, Ovacik, Saklikent, Seydikemer, Uzumlu, Yaniklar and Kayakoy. Almost dolmuses have been replaced to new ones so dolmuses which go from Calis to Fethiye and from Tasyaka to Karagozler as well as from Fethiye to Oludeniz through Ovacik and Hisaronu are equipped with air conditioners and even with facilities for disabled passengers. So how to get to Oludeniz from Fethiye? The cheapest way to get to Oludeniz from Fethiye is to catch Oludeniz dolmus from central part of the town near the big mosque - it is the last bus stop for Calis to Fethiye route as well so if you are coming from Calis beach to Oludeniz there will be the place where you change the dolmus. Fethiye to Oludeniz dolmus timetable: from 7.00 am till 8.00 pm every 10 minutes, after 8.00 pm till 11.00 pm every 30 minutes, the last bust leaves Oludeniz at midnight - this schedule is eligible for summer time only. If you wonder how far is Fethiye from Oludeniz then the answer is 14 km. Comprehensive Fethiye dolmus timetable you can check here. Another drawback is their extremely slow speed. Along with minbuses there are regular municipal buses going in Fethiye. Payment is made in cash directly to the driver, by Kentkart card or Kentkart mobile app via NFC upon boarding.
Taxi in Fethiye and Oludeniz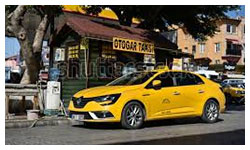 Fethiye is a resort town so keep in mind that the cost of a Fethiye taxi is quite expensive (like in other resort towns of Turkey). In most cases 2 times more expensive than say in Istanbul. All taxis in Turkey are equipped with taximeters but after midnight (for example you stayed late in Oludeniz and missed last dolmus, in this case Oludeniz taxi is your chance to come back to Hisaronu, Ovacik and Fethiye) we recommend to ask driver the cost before the trip as the cost may be higher in comparison to day time. We also offer car transfer services in Fethiye Oludeniz and Hisaronu (much more cheaper than regular Fethiye taxi service) and private tours to nearby areas. So Fethiye taxi is another tranportation method how to get to Oludeniz from Fethiye, Calis and Uzumlu.
Calis Water Taxi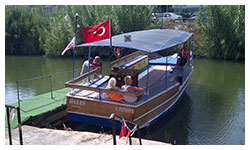 The Calis water taxi is a small boat for 20-30 person that goes from Calis to Fethiye and back to Calis every 30 minutes during holiday season (from May to October). The one way trip takes about 40 minutes. You can buy a ticket at the kiosks on the pier in Fethiye or near the bridge over a canal in Calis. We recommend taking Calis water taxi from Calis to Fethiye right before sunset to enjoy the amazing view of sun going down to the sea. You may also check our list of offered boat trips from Fethiye and Oludeniz.