Kas Kalkan Myra Kekova tour from Fethiye and Oludeniz
Kas Kalkan Myra Kekova tour from Fethiye, Hisaronu and Oludeniz is one of the most interesting historical excursions where you will visit the towns of Kas, Kalkan, Demre, ancient city of Myra and island of Kekova.
The first town of our Kas Kalkan Myra Kekova tour from Oludeniz, Hisaronu and Fethiye will be Kalkan. It is a quiet, peaceful and charming resort on the Mediterranean coast of Turkey. In the past it was a simple fishing village but now Kalkan has become a modern seaside resort with cozy small hotels, fine dining restaurants, a variety of shops and nice Kalkan beach. The distance from Oludeniz to Kalkan is almost 90 km, from Fethiye to Kalkan is about 80 km.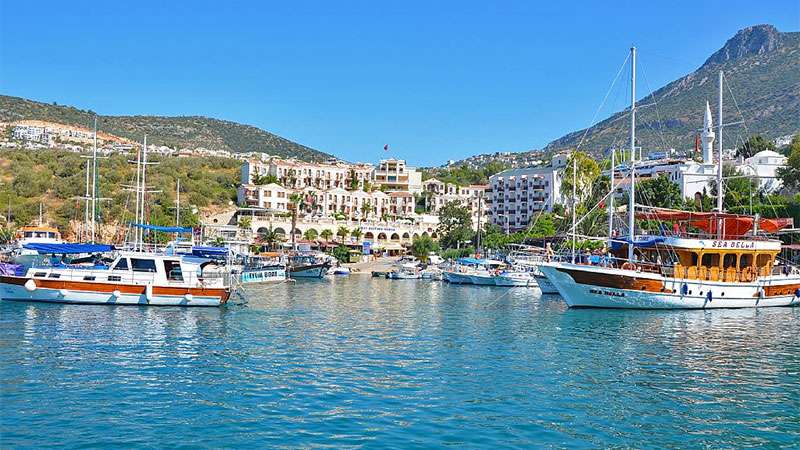 Fethiye Kekova
Then we go to Demre. It is a small town known as a place of religious pilgrimage and the holy faith. The city has many names, the most famous are Demre and Myra. Ancient city of Myra was one of the six major Lycian cities. The exact date of the founding of the Myra ancient city is unknown. According to the Lycian inscriptions the settlement existed here in the 5th century BC and was known as Myra. It is believed that in ancient times the word "myra" meant aromatic resin for production of incense.
In that time the Myra was big city and had its own bishop - Nicholas of Myra, better known as Saint Nicholas or Santa Claus. He was buried in the ancient Lycian sarcophagus in the local church which now bears his name and is open to the public. This church is considered to be the third most important religious building of Byzantine architecture in the Orient. The Lycian rock tombs and the Greek - Roman theater survived as a reminder of the glorious past of the Demre Myra Turkey. Demre is going to be the furthest point of our Kas Kalkan Myra Kekova tour. The distance from Fethiye to Demre is almost 150 km.
The next leg of our Kas Kalkan Demre Myra Kekova tour from Fethiye, Hisaronu and Oludeniz tour will be a
boat trip
to the
Kekova island
. In the north side of Kekova you will see the ruins of destroyed by an earthquake in the II century BC the ancient city Dolichiste that have partially gone under water but clearly visible in the transparent water. The distance Fethiye Kekova is about 140 km.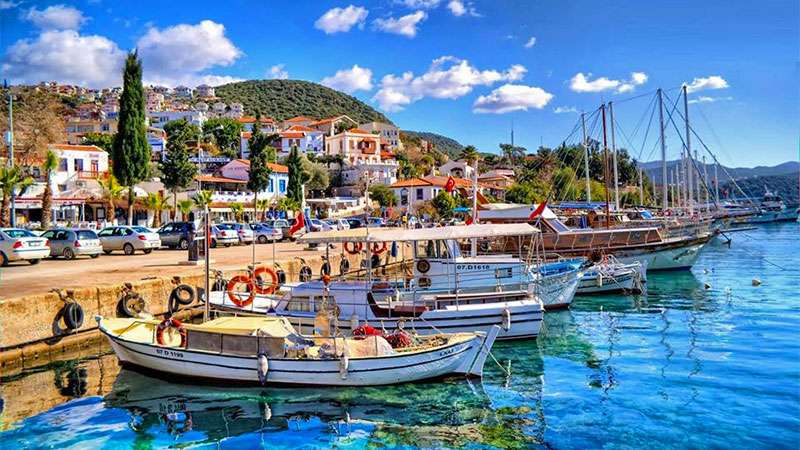 Kas Kalkan Myra Kekova Tour
On the way back we will visit another wonderful city - the city of Kas in Turkey and its Kas beach. This is one of the most "non-Turkish" resorts in Turkey. It is located in a fairly confined space at the junction of the Mediterranean and Aegean seas surrounded by mountains and pine forests from three sides. This resort is almost the only area place in Turkey where you will not see mass tourist, the reasons are simple - a sufficiently large distance from the airport and the lack of large chain hotels. Also you will be able to take pictures of one of the most beautiful small beaches in Turkey - Kaputas beach. Distance from Fethiye to Kas is about 105 km.
We do not pretend to be the cheapest on the market, we are just trying to find best guided tour from Oludeniz, Hisaronu and Fethiye to Kas Kalkan Myra Kekova of the best possible quality and sell them for reasonable money. Keep in mind that cheaper tours mean cheaper quality.
What is included in the price or Kas Kalkan Myra Kekova tour: transportation by bus and boat, lunch, professional guide service and insurance.
Extra charges: drinks. Myra entrance fee, St. Nicholas's Church entrance fee.
You need to bring: bathing suit, money for drinks and souvenirs.
Approximate pick up time: Oludeniz 8.15 am, Hisaronu 8.30 am, Ovacik 8.40 am, Fethiye 8.50 am, Calis 9.00 am (exact pick up time will be given in your booking confirmation).
Approximate drop off time: 19.00 - 19.30 (depending on your accommodation's location).
We also offer 100% private Demre Myra Kekova tour including visit to Kas and Kalkan from Fethiye, Hisaronu, Oludeniz, Calis, Ovacik with personal professional English speaking guide giving you maximum comfort and flexibility.