Oludeniz Water Park - Fethiye Aquapark in Ovacik Hisaronu
PLEASE PAY ATTENTION
The Oludeniz Water World is CLOSED this year!!
But another new large aquapark opened in Ovacik:
ORKA WORLD WATERPARK
Please CLICK HERE for details!
We propose you to spend your time in the biggest Fethiye aquapark of the aquaparks located in Ovacik, Hisaronu and whole area around Fethiye – Oludeniz Water World Aquapark Turkey! It has 9 slides, children pool, wave pool and usual swimming pool. There is large restaurant and two bars with cold drinks as well, Ice Cream café, tent café with Turkish national food 'gozleme' and pancakes, market with towels and swim suits in Oludeniz water park. Do not think about your mobile phones and money – there are also lockers and safety deposit boxes. Oludeniz Water World Water Park (Hisaronu water park) provides the children club, where your child can spend time with professional staff. Children can recharge their 'batteries' in the shade of tent while painting, reading or just chatting with others. For adults there are many places to restore the energy: one restaurant and two bars – Lykia Bar and Cabana Bar. Nomad Tent is the typical oriental place with low tables surrounded by oriental mattresses where you can try gozleme from Turkish cuisine (type of pancakes with stuffing).
Cash is not used in the Oludeniz waterpark – you can load your money to your Oludeniz Water World Aquapark card and then you can buy drinks and food via this card. Therefore, you do not have to take money in the pool or slides. After entering the Ovacik Water Park you will get your card where you can loan some amount of money. Before you leave the Fethiye aquapark they will take card back, check it and give rest of money back to you. Please, do not lose your card otherwise it will be impossible to get your balance back.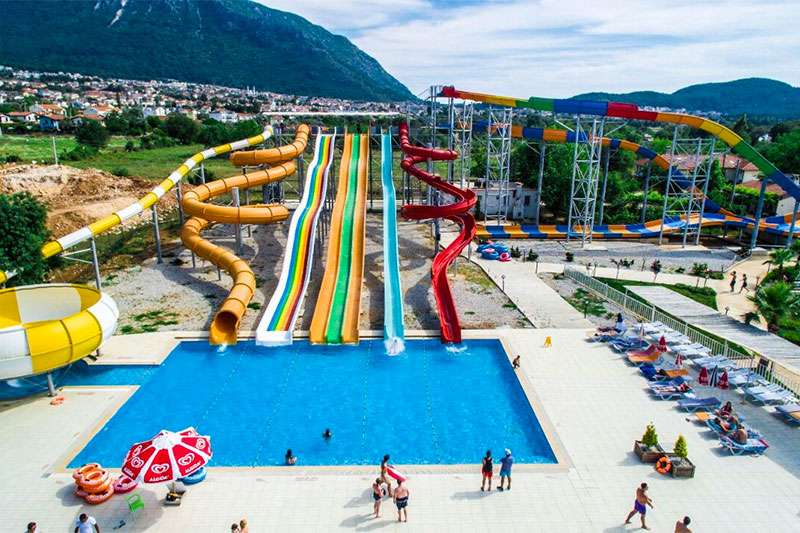 Oludeniz Water Park
If you are looking for water park near Fethiye, Hisaronu and Ovacik then Oludeniz Water World Aquapark is #1. There are many slides named Twister, Raft Tunnel Twist, Kamikaze, Screamer, Slider, Drop, Red Devil, Boomerang and Slitherer in Oludeniz aqua park. All of them are safe for children as well. The Wave Pool look like a sea. Grab a raft and surf from one end to the "beach". It feels like the sea! In the Oludeniz water park in Ovacik, there is an artificial river where you can do rafting! The river goes around the main pool terrace and professional instructors will help you to enjoy this too.
The Oludeniz Waterworld Aqua Park is the biggest Fethiye aquapark as well as in Calis though there is another smaller Fethiye aqua park. If you stay in Dalaman and looking for good day out in Fethiye water park then keep in mind that Oludeniz waterpark is largest and closest to Kalkan and Dalaman water park and we arrange private tours from Kalkan and Dalaman to Oludeniz Water World Aquapark includung door to door return transportation and entry tickets, for the price please contact us with the number of people.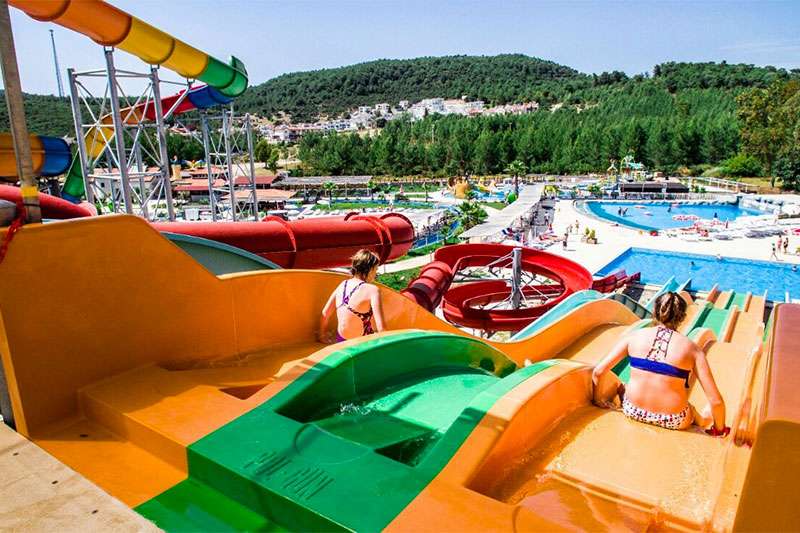 Fethiye Aquapark
There are animation team and instructors who will help and entertain you and your children during your visit to the Oludeniz aquapark. Do not miss the opportunity to have a good day out for all the family at water park Oludeniz Water World Water Park in Hisaronu - the largest Fethiye Aquapark. Lots of fun, splashes and great mood are guaranteed not only to children but adults as well, even senior people will enjoy. Turn on your full fun mode at Oludeniz Water Park and variegate your holidays in Turkey.
What is included in the price of entry to Fethiye Water Park: transportation from Oludeniz, Hisaronu and Ovacik, entry tickets. Transportation from Fethiye and Calis should be paid extra as mentioned above. Transportation from Dalaman, Uzumlu, Kalkan and Gocek is available on request.
You need to bring: swim suit, sunglasses, camera, money for food and drinks.
Approximate pick up time: Oludeniz 10:00, Hisaronu 10:15 – 10:30, Ovacik 10:15 to 10:30, Fethiye 10:15, Calis 10:00 (actual time of pick up will be provided in booking confirmation)
Approximate drop off time: 16.00 - 16.30 (depending on your accommodation's location).