Saklikent Gorge Tour from Fethiye Oludeniz Hisaronu
So what is guided tour to Saklikent Gorge, Tlos and Yakapark from Fethiye, Hisaronu, Calis and Oludeniz? A winding road through the valley and the mountains will take us to the ancient Lycian city of Tlos near Saklikent which was built by the Hittites and is mentioned in the writings of the 14th century BC In times of Lycia it was one of the most important cities. It merged together three eras - the ancient Lycian tombs carved into the rock, Agora and amphitheater built by the Romans at the foot of the mountain and finally the ancient Ottoman fortress of Bloody Ali at the top. According to legend the Bellerophon and his winged horse Pegasus lived here. Tlos necropolis is considered to be a royal shrine of Belerophon. According to mythology he was famous for having killed a terrible monster - Chimera and then established a royal dynasty that ruled Tlos. In Tlos you can see the remains of luxury homes and baths that in ancient times were covered with vines. So this tour to Saklikent canyon from Oludeniz, Fethiye or Hisaronu will be informative and entertaining for fans of history. The distance from Saklikent to Fethiye is 40 km, from Oludeniz to Saklikent Gorge is 50 km, from Hisaronu to Saklikent Gorge is 45 km.
After a visit to Tlos on our Fethiye Saklikent tour from Oludeniz Hisaronu Calis we will come to Fethiye Yakapark trout farm. Here among the maze of narrow paths and pools with crystal clear water with splashing trout you will taste dinner cooked in the best
traditions
of national Turkish cuisine. Restaurant Yakapark near Fethiye is literally buried in verdure so you will definitely love to be there especially in hot summer day - it will be real highlight of Tlos - Yakapark - Saklikent gorge tour.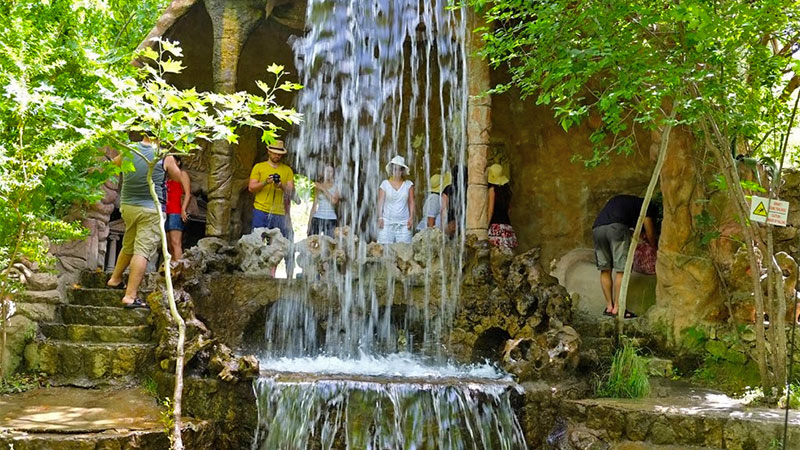 Yakapark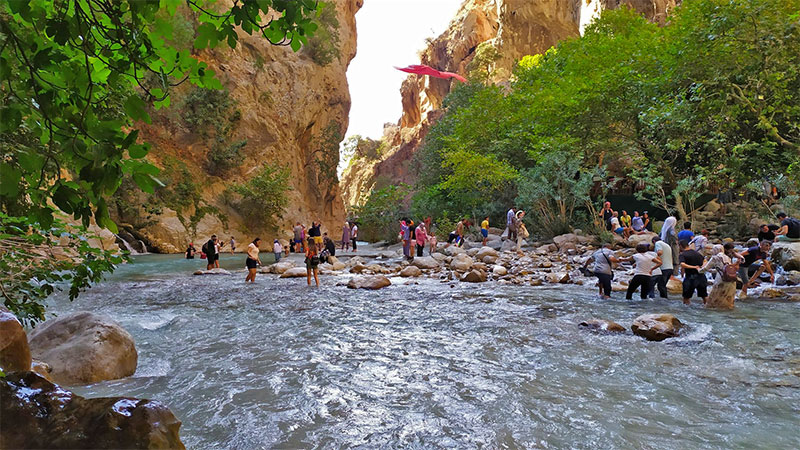 Fethiye Saklikent Tour
And at the end of our Saklikent tour from Fethiye - Oludeniz - Hisaronu we will come to the mysterious
Saklikent Gorge
which means "The Lost City" in translation from Turkish. Saklikent Canyon near Fethiye has a height of 300 m and a length of 18 km. It is the longest canyon in Turkey and the second-longest in Europe. Saklikent Turkey is now a national park and has the area of 12,390 hectares.
There is lot of healing clay which has a rejuvenating effect you can find in the canyon during our Saklikent gorge Tlos Yakapark tour. You will be able to penetrate into the heart of the mountains where the bizarre rocks envelop by cool even when there is heat outside. Lost City beckons you further and further into the fascinating rocks until they virtually link up over your head. In the Saklikent national park you can raft down a mountain river. This wonderful Hisaronu Saklikent gorge Tlos Yakapark tour from Fethiye Oludeniz Calis will delight fans of history as well as adventure lovers! It is important to admit that Saklikent Gorge entrance fe is not included to the cost of Saklikent Gorge day trip and should be paid extra directly to Saklikent canyon administration.
We do not pretend to be the cheapest on the market, we are just trying to find best Fethiye Saklikent Gorge Tour of the best quality and sell them for reasonable money. Keep in mind that cheaper tours mean cheaper quality.
What is included to the Fethiye Saklikent gorge tour from Oludeniz Hisaronu Calis: transportation, lunch, professional guide service and insurance.
Extra charges: drinks, Saklikent gorge entrance fee, Tlos entrance fee
You need to bring: bathing suit, sunglasses accessories, camera, money for drinks and Saklikent gorge entry.
Approximate pick up time: Oludeniz 8.00 am, Hisaronu 8.30 am, Ovacik 8.35 am, Fethiye 8.30 am, Calis 9.00 am (exact pick up time will be given in your booking confirmation).
Approximate drop off time: 16.30 - 17.00 (depending on your accommodation's location).
We also offer 100% private tours to Saklikent, Tlos and Yakapark from Fethiye, Oludeniz, Calis and Hisaronu with personal professional English speaking guide giving you maximum comfort and flexibility.