Fethiye Market - Kayakoy Ghost Town tour from Oludeniz Hisaronu Fethiye
The Fethiye market - Kayakoy ghost village tour from Oludeniz, Hisaronu, Ovacik, Calis and Fethiye Turkey is available on Tuesdays only and it begins with a visit to the Tuesday market in Fethiye - one of the biggest in the region, which is known for its leather goods such as shoes and handbags, Turkish carpets, many seasonal fruits and vegetables as well as cheeses, all sorts of oriental spices, oriental delights, olive oil, marinated and smoked olives for any taste. Also there you can buy souvenirs, copies of designer clothes, towels, bed linen of great quality for a very reasonable price. Do not hesitate to bargain on the Fethiye market Turkey because it is part of the Turkish culture and is perceived by traders as a matter of course. We offer a comfortable air-conditioned bus for this trip so fuss no more in overcrowded public transportation. By the way Fethiye market day is Tuesday and Friday. On Friday vegetables only are available in market in Fethiye. Tuesday Fethiye market location is easy to find - straight behind the municipal stadium.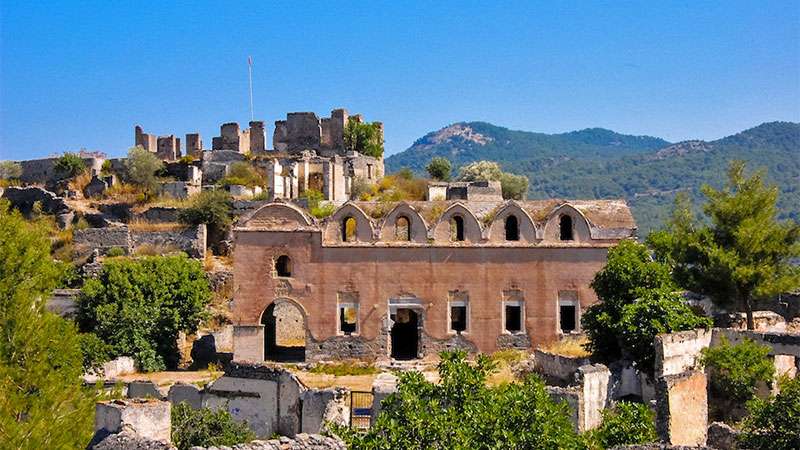 Kayakoy Ghost Town
After visiting the Fethiye market from Oludeniz, Hisaronu, Ovacik and Calis we go to the tomb of Amintas in Fethiye that can be observed from the bay of Fethiye. Amintas was one of the Lycian rulers of Telmessos (the ancient name of Fethiye).
Following our Fethiye Kayakoy tour from Hisaronu, Fethiye and Oludeniz we go to Kayakoy ghost town (from Turkey Kayakoy is transtaled as Kaya village) - abandoned Greek settlement. After World War I the ethnic tensions began in Turkey that leaded to forcing of inhabited Kaya village Greeks to leave their homes and flee to their homeland. Kayakoy ghost town also became famous by the book Louis de Berniere "Birds Without Wings" about the love of Greek girl and Turkish guy.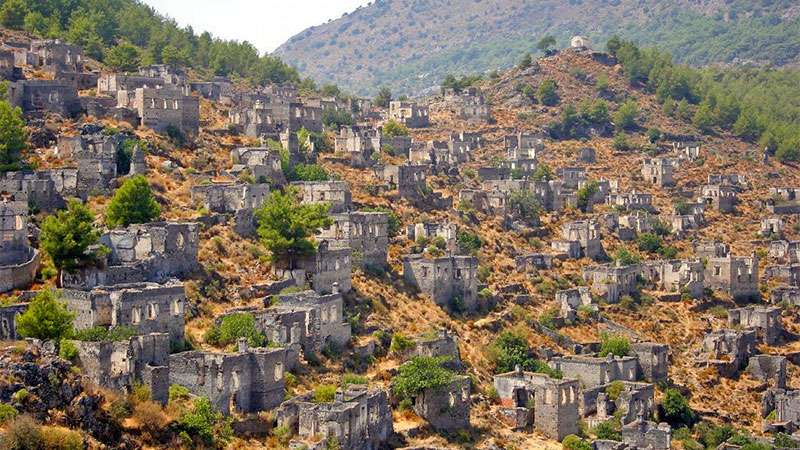 Ghost Town Oludeniz
The old name of this village was Levissi and it numbered 6,000 citizens. Many houses and the church are well preserved to our days. In Kayakoy Turkey we will have a barbecue lunch and time to relax in a restaurant with a swimming pool. By the way the last movie of Russell Crowe "Water Diviner" was filmed there and it was recognized as best Australian movie of 2014 as well as it was named the highest grossing Australian film of 2014. Fethiye Market Kaya Village tour is one of the most popular tours on Tuesday so please book in advance.
We do not pretend to be the cheapest on the market, we are just trying to find best tour to Fethiye Market and Kayakoy Ghost Town Tour from Oludeniz, Fethiye and Hisaronu of the best quality and sell them for reasonable money. Keep in mind that cheaper tours mean cheaper quality.
What is included in the price to the Kayakoy Ghost Town tour: transportation, guide
Extra charges: lunch, entry fee, drinks.
You need to bring: sunglasses accessories, camera, money for shopping and drinks.
Approximate pick up time: Oludeniz 9.15 am, Hisaronu 9.30 am, Ovacik 9.45 am, Fethiye 9.50 am, Calis 9.20 am (exact pick up time will be given in your booking confirmation).
Approximate drop off time: 15.00 - 15.30 (depending on your accommodation's location).
We also offer 100% private tours to Kayakoy (Ghost Town) and Fethiye market with personal professional English speaking guide giving you maximum comfort and flexibility.