Oludeniz and Fethiye Travel Tips
Here are our Fethiye and Oludeniz safety and travel tips. If the following questions "is Fethiye safe?" or "is Oludeniz safe?" should be answered for you then you are in a right place. Turkey's well-maintained roads, low crime rate and good health care make it a safe and relatively easy country to explore. However it's important to be aware of potential environmental hazards in Fethiye Turkey and nearby area, such as forest fires and intense sun in summer time. You will need to be thoroughly prepared for outback journeys and long hikes and walks as well as take sensible precautions in regards to poisonous animals. With the following travel tips, you can safely enjoy Fethiye's unique landscapes and answer YES to the question "is it safe to travel to Fethiye area".For more information on road safety please check our Road Safety in Turkey page.
Personal security
Is it safe to travel to Oludeniz Turkey? Turkey is one and the most hospitable countries in the world. You will be surprised with warmth and friendliness of the Turks. The crime rate is low but you still have to be careful on the streets of resort towns such as Fethiye, Oludeniz and Hisaronu and crowded places - sometimes theft of personal property happens. You should maintain at about the same level of personal security awareness as in your home country. It might be interesting for you to read about Turkish traditions as well. Generally speaking it is safe to travel to Fethiye Turkey in 2020.
Sun protection in summer season
The sun in Fethiye Turkey is very strong in summer season especially in July and August. Always wear a t-shirt, hat, sunglasses and a high factor sunscreen lotion and if spending the whole day outdoors reapply sunscreen regularly. Stay out of the sun during the middle of the day when the sun is strongest and take the opportunity of shade at these times. Make sure you drink plenty of fluids to avoid dehydration. Find out more about climate and weather in Fethiye.
Forest fires and fires in general
Turks in Fethiye region live with the risk of forest fires. The danger period is from July to August when the sun is strongest. During this time observe some simple Turkey travel safety precautions. The majority of forest fires in Turkey is caused by people so when camping use designated fireplaces and comply with total fire bans. If you must light a fire always extinguish it completely with water. Fire management in Turkey is a federal responsibility and in case of forest fire the helicopters and hydroplanes are being used for immediate fire suppression.
Swimming Fethiye and Oludeniz safety
Never swim under the influence of alcohol or directly after a meal. All official beaches in Fethiye region are pebble or sand and are completely safe for swimming. But if you take a boat trip we do not recommend to touch the bottom and go to a stone coast without rubber shoes - there is a danger of stepping on a sea hedgehog and get black sharp spines into feet. They are very brittle and it is not so easy to pull them out. If however spines penetrated deeply into the flesh then you need to treat the wound immediately with lemon juice and try to pull them out with a sewing needle. Sometimes spines are coming out if you put your feet to the salty water or just sea. If you cannot pull out the thorns during 24 hours then it is required to see the doctor.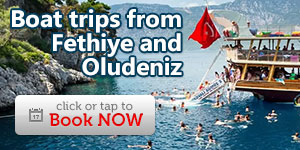 The poisonous animals in Turkey
Turkey has some poisonous inhabitants like snakes (vipers), scorpions and spiders but the chance of you coming across any of them in Fethiye Turkey and nearby area is so negligible as to be almost nonexistent. When hiking or trekking, you can avoid snake and spider bites by wearing protective footwear and using your common sense. If bitten seek immediate medical attention. Try and get a look at the snake or spider so you can describe it to your doctor.
Hiking and trekking tips
When planning a hike, check the length and difficulty of the walk and consider using a local guide for long or challenging walks. If walking without a guide tell someone where you are going and when you expect to return. Wear protective footwear, a hat, sunscreen lotion and take wet weather gear, GPS, mobile phone and plenty of water. When trekking pay attention to signs and stay on the track. Plan walking in summer months carefully and avoid challenging hikes when the sun is too intense. The most famous trekking route in Fethiye Turkey is Lycian Way. It is 500 km long and stretches from Fethiye to Antalya around part of the coast of ancient Lycia. It is way marked with red and white stripes. The Sunday Times has listed it as one of the world's top ten walks. Don't risk your life for good selfie shots!