Tour from Fethiye Hisaronu Oludeniz to Pamukkale and Hierapolis
Guided tour from Oludeniz, Hisaronu and Fethiye to Pamukkale and Hierapolis includes at least three parts - visiting the ruins of the Roman ancient city of Hierapolis, walk along the side of a mountain covered with travertine deposits and swimming in the Pool of Cleopatra.
The first buildings on the site of Hierapolis appeared in the 2nd millennium BC. King of Bergama Attalus II in 190 BC has built a new city on the site and called it Hierapolis ("the holy city" in Greek). The city was later destroyed by an earthquake and rebuilt. In 133 BC the city came under the protection of Rome. Walking through the ruins of Hierapolis involves passing on foot to the largest ancient Roman necropolis in Turkey. Overcoming about two kilometers tourists may see a variety of tombs and sarcophagi some of them were well preserved and some were skillfully restored. In addition the Pamukkale excursions includes a visit to a number of well-preserved sites of the ancient city - a complex of baths, Roman and Byzantine gates, as well as objects that were reconstructed by archaeologists - latrines, the ruins of the fountains and the municipal Theatre. By the way the tomb of the Apostle St. Philip was found in the ruins of Hierapolis in Turkey. In 1988 the city was declared a UNESCO World Heritage Site.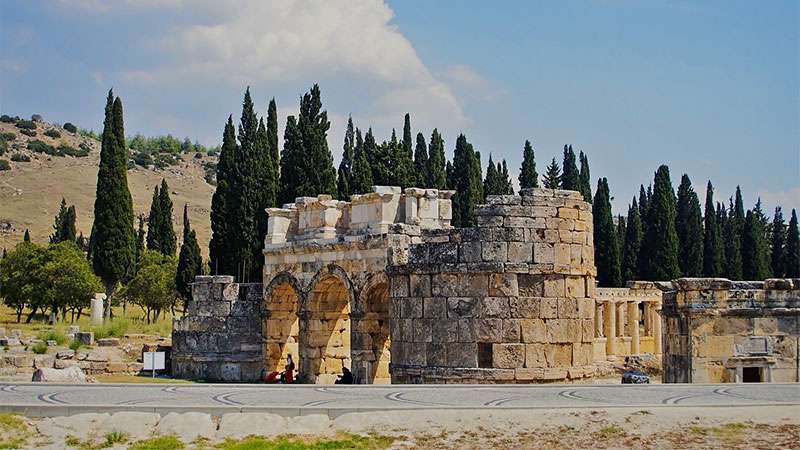 Oludeniz to Pamukkale
Wander what things to do in Fethiye to Pamukkale day trip? Pamukkale tour from Fethiye, Hisaronu or Oludeniz is unthinkable without walking on the side of a mountain covered with deposits of calcium - it is one of the most famous
Pamukkale attractions
. Tourists take their shoes off and get down slowly along the slippery slope of snowy mountains that was created by travertine.
This is a unique place on the planet where you can see natural cascades through which mineral-rich water drains forming ponds separated by limestone barriers. Thousands of years the flowing water evaporating of the ground formed a bizarre travertine that seem to be the snow-white palace. By the way Pamukkale means "cotton castle" in Turkish.
The Fethiye - Hisaronu - Oludeniz to Pamukkale day trip offers some free time so true lovers of archeology or history may take a walk along the mountainside to explore the ruins of the Roman ancient city of Hierapolis. Good Christians can climb up to the shrine and Basilica of St. Philip who was executed and buried there. Others can enjoy the mineral waters of the ancient Pool of Cleopatra. Cleopatra's Pool is artificially formed pond.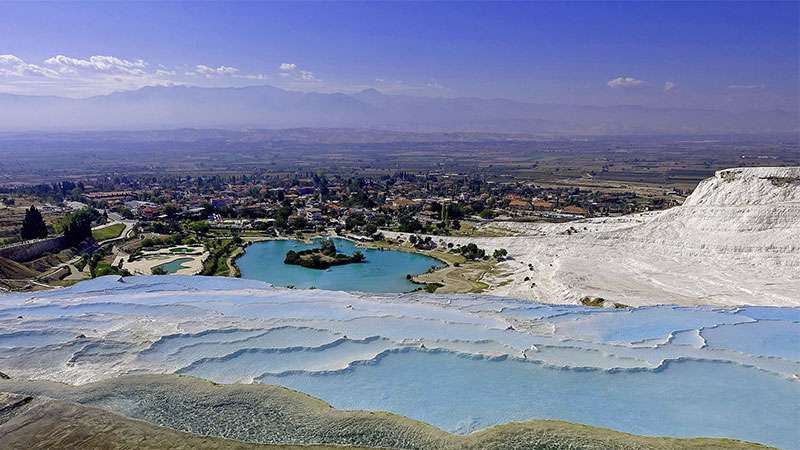 Fethiye Pamukkale Tour
There are columns and architraves of portico that surrounded the building on all four sides and was destroyed by an earthquake in the 7th century AD. Mineral water in the reservoir has a temperature of the human body - 35-36 C degrees and enriched with calcium. It has amazing healing and rejuvenating properties. Pamukkale thermal pools cures rheumatism, rickets, cardiovascular, neurological, skin and gastro-intestinal diseases, lumbago, psoriasis and eczema. The distance from Oludeniz to Pamukkale on tour is 235 km, from Fethiye to Pamukkale - 230 km, Hisaronu Pamukkale - 232 km. You will never regret visiting Hierapolis and Pamukkale tour from Fethiye, Hisronu and Oludeniz.
We do not pretend to be the cheapest on the market, we are just trying to find best Oludeniz, Hisaronu and Fethiye Pamukkale tour of the best quality and sell them for reasonable money. Keep in mind that cheaper tours mean cheaper quality.
What is included in the price of Fethiye Pamukkale Tour: transportation, breakfast, main entrance fee, professional guide service and insurance.
Extra charges: drinks, lunch, entrance fees to museum and Cleopatra pool.
You need to bring: bathing suit, sunglasses accessories, camera, money for drinks and lunch.
Approximate pick up time: Oludeniz to Pamukkale tour - 6.00 am, Hisaronu to Pamukkale tour - 6.15 am, Ovacik to Pamukkale tour - 6.15 am, Fethiye to Pamukkale day trip - 6.45 am, Calis to Pamukkale trip - 6.45 am (exact pick up time will be given in your booking confirmation).
Approximate drop off time: 18.30 - 19.00 (depending on your accommodation's location).
We also offer 100% private tours to Pamukkale and Hierapolis from Fethiye, Hisaronu and Oludeniz with personal professional English speaking guide giving you maximum comfort and flexibility.