Fethiye on Turquoise Coast of Turkey
Town of Fethiye is settled at the foot of the mountain covered with pine and cedar forests and topped with the ruins of the chivalry fortress that offers magnificent views of the Fethiye bay. Fethiye region is one of the most secluded corners of the southern coast as if created for those who are seeking privacy and tranquility. Being located in the gulf the Fethiye has become a popular place in Turkish Mediterranean known as the Turkey Turquoise Coast.
The appeal of Fethiye is not in archaeological sites but in the scenery - people come here to visit one of the most charming and impressive parts of the coast where nature has surpassed itself. In the vicinity of Fethiye turquoise coast Turkey is very uneven, there are many coves and islands. The banks are mostly steep and rocky covered with dense forests, in Fethiye bays you can find charming sandy beaches surrounded by steep cliffs. The main feature of Fethiye city is one of the biggest in Turkey sand and pebble beach that stretches for several kilometers and a chain of small secluded bays along it most of which are hidden from view and you can reach them by boat only. These places tend to tranquility and total privacy that appeal to many travelers coming here. Fethiye is one of the most beautiful resorts in Turquoise Coast Turkey. Due to the natural bay and a lovely beach Fethiye town is a great opportunity for a relaxing beach holiday. Immersed in the green the Fethiye peninsula stands exceptional environmental friendliness, excellent air and climate. You will always enjoy the hot weather of mountain Fethiye and warm sea. Even in winter the temperature of water goes just several degrees below 20.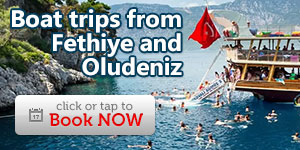 Nature of Fethiye is amazing and beautiful - pine forests, plants such as laurel, myrtle, acacia grow here. There is oriental sweetgum tree (one of the rare plants) and a variety of flowers are growing in Fethiye area. The Butterfly Valley attracts by its incredible beauty and opulent vegetation, it is a home for tiger butterflies.
The Fethiye Dead Sea (Oludeniz) is located in 16 km from Fethiye, it is indescribable miracle created by nature. This extraordinary in its beauty lagoon attracts scuba diving enthusiasts and is also one of the most popular destinations for paragliding. Thousands of people from all over the world come to Turkey turquoise coast in Oludeniz and Fethiye for holidays to admire the quaint coastal bays and majestic mountains in flight.
There is the village of Dalyan in 70 km from Fethiye. The unique flora and fauna of this area are protected as natural reserve. There is unique sandy beach Iztuzu at the mouth of the Dalyan River where sea turtles Caretta caretta and blue crabs live for many years. We have a trip to Dalyan turtle beach.
Fethiye is crystal clear sea, rocky coves, sun, beaches, cliffs, mountain pine groves, the flavors of herbs and oriental spices so don't miss a chance to enjoy all this in one place!